Suffolk protesters demand River Waveney clean up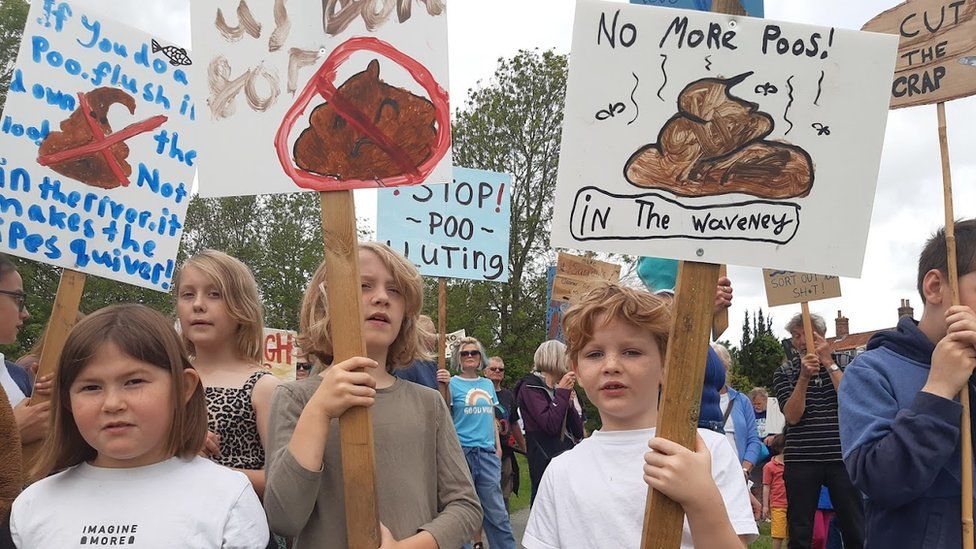 Protesters have urged politicians and a water company to do more to clean up a county's rivers.
About 200 people marched from Bungay to the River Waveney in Suffolk as part of a "Procession Against Poo".
Toby Hammond, a Green Party member from the town, said it was "outrageous" that sewage was being dumped into the river.
Anglia Water, which has admitted dumping sewage in the river 389 times last year, said it was investing £200m to rectify the "historic issue".
Mr Hammond said about 200 people of all ages showed up from a two-year-old to a 92-year old.
"We've discovered there were over 1,000 hours of dumping and on 89 occasions in 2021 sewage flowed into the river, and that was just in Bungay", he said.
"There were more incidents in Upper Diss, Beccles and Lowestoft."
Anglian Water said: "We agree that storm overflows are no longer an appropriate way of dealing with overloaded sewers during heavy rainfall, and although they have a role to play in protecting homes and businesses from flooding, we know we need to do more."
It said as well as the money it's investing its "Get River Positive" committed the company to ensuring storm overflows and sewage treatment works "will not be the reason for unhealthy rivers by the end of the decade".
Jesse Timberlake, the captain of the Waveney Rowing Club, said: "My young children play in this river. How can it be acceptable to use it as an open sewer?"
"Even in this day and age, we're using Victorian methods and technology that puts sewage in the river to get rid of it", Mr Hammond said.
"We want to put pressure on our politicians and leaders as well as Anglian Water to clean up their act.
"Today is just the start of the campaign to force Anglian Water to upgrade the infrastructure.
"We've found wet wipes and sanitary products, flushed down the sewer, in the river where our children swim.
"I've been swimming here for 40 years and it's just outrageous.
Suffolk County Council passed a motion at a council meeting to investigate what could be done to tackle the problem.
Related Internet Links
The BBC is not responsible for the content of external sites.