Proposal to pay carers in Suffolk real living wage rejected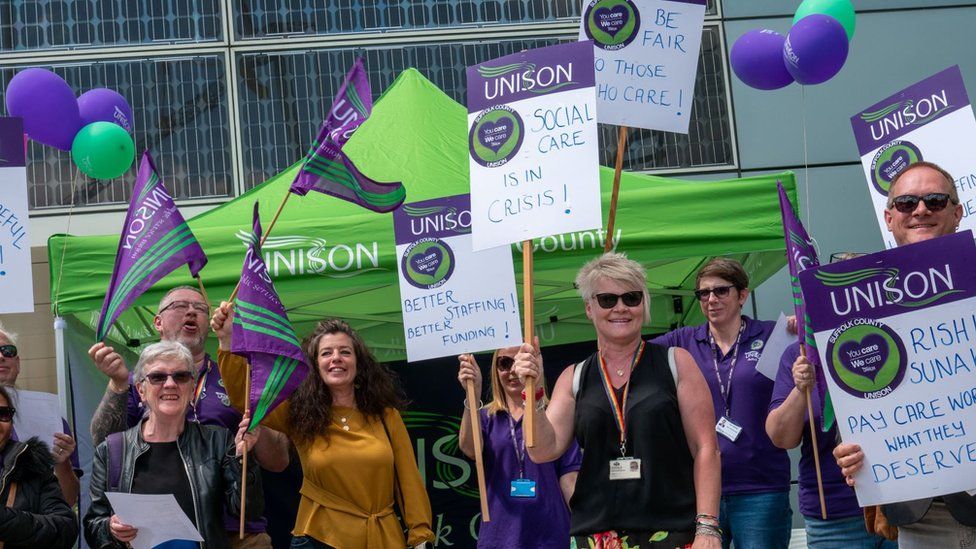 A proposal for council-contracted carers in Suffolk to be paid the real living wage has been rejected because it was "not affordable".
The Labour group on Suffolk County Council put forward a motion for care workers to be paid £9.90 per hour.
That is the level calculated by the Living Wage Foundation, 40p higher than government's national living wage.
Beccy Hopfensperger from the council's ruling Conservatives said such a rise was not "within the council's budget".
Demonstrators from the union Unison, which had campaigned for the pay increase, gathered outside the council's Endeavour House headquarters in Ipswich ahead of Thursday's full council meeting, the Local Democracy Reporting Service said.
Sandy Martin, the Labour councillor and former Ipswich MP who put forward the motion, said: "I think it is wrong people should be paid less to do the job than they need to live on.
"We are already seeing that in Suffolk, we are already seeing a drop-off in the number of people working in social care simply because they are not being properly paid."
But his motion was defeated by 36 votes to 11.
Ms Hopfensperger, cabinet member for adult social care, said a rise from £9.50 to £9.90 could cost the council an extra £8m.
"This is clearly not affordable," she said.
She added that the council was carrying out an exercise to understand the cost of care, which included an examination of carers' pay, and it was due to be published in the autumn.
Caroline Page, from the opposition Liberal Democrat, Green and Independent group, said the council was "failing in our responsibilities" by not looking at carers pay.
She said carers were "paid so little that surely they will soon realise that they could earn equal pay in other less stressful jobs".
The Living Wage Foundation is a campaigning group that argues that the living wage should be "based on the cost of living".
The government calculates a National Living Wage and a National Minimum Wage which are legally enforceable, and firms can be fined for not paying the legal minimum.
Related Internet Links
The BBC is not responsible for the content of external sites.