Ukrainian twin girls, 5, start school in Bury St Edmunds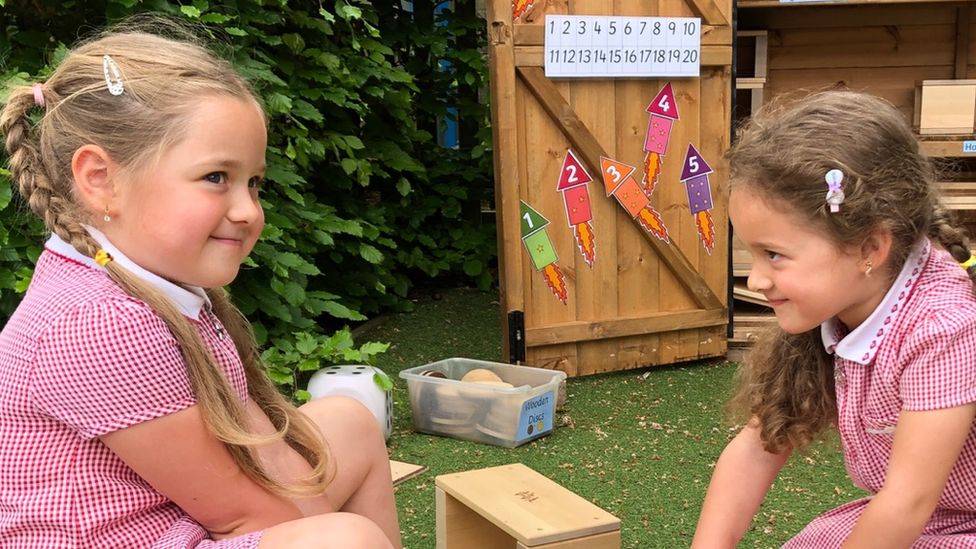 Ukrainian five-year-old twin girls have started school less than a month after arriving in the UK as refugees.
Emeli and Melani left Ternopol, a city in western Ukraine, with their mother Dalia, 46, leaving behind their father Oleg.
They are staying with their host Serena Last in Bury St Edmunds, Suffolk, and are in the same class as her five-year-old daughter Quinn.
Dalia said "nobody knows" how long they will be the UK for.
She said "every morning I wake up and check the news" in the hope the war would be ending.
Her husband is being trained in the Black Sea city of Odessa to fight on the front line against Russia, and Dalia said she messaged him every day.
Ms Last said she had met Dalia when she was living in Bury St Edmunds previously, before she went back to Ukraine and then returned to Britain in unhappier circumstances.
Her host, who at 45 is a similar age, said: "There are three five-year-olds in one house, so the noise volume has gone up, but it's good fun.
"It's lovely when they are playing and laughing; it's a noisy household now."
After initial delays over visas for the twins, which are now sorted, Ms Last said there was "all the other stress" of getting paperwork in order for bank accounts and benefits.
But she added she was "so pleased they are here".
Daryl Jones, head teacher at Hardwick Primary School, said: "We're absolutely delighted to have the children here; they've fitted in really well; they're thriving and learning through play."
He said their class teacher was using translation apps to help with the language barrier but "a lot of the communication is done through learning and playing with each and all the other children".
"On the whole they've been able to pick up on cues from the teacher and the children, and because they're twins they've got each other to help with understanding." he added.
War in Ukraine: More coverage