Bury St Edmunds murder trial hears accused 'not a psychotic vigilante'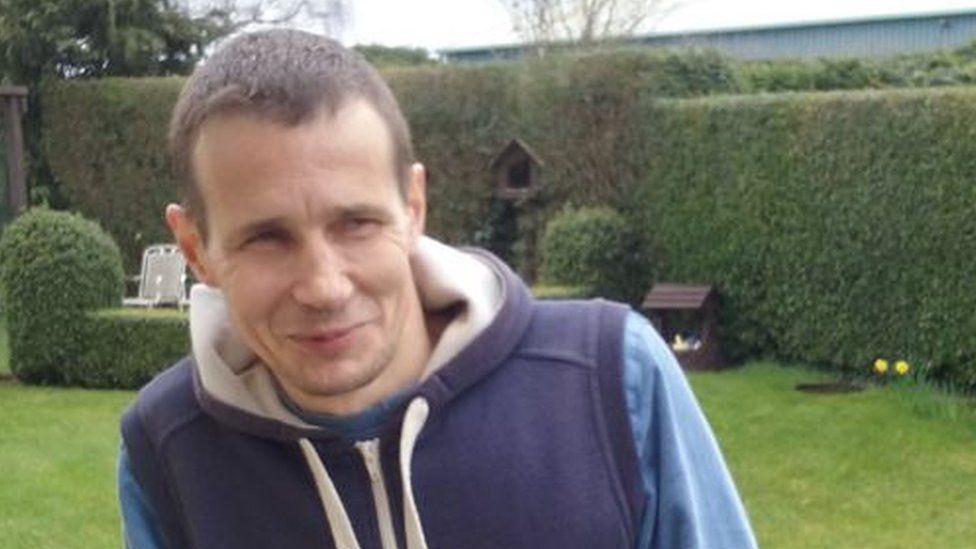 A man accused of murdering a "recidivist offender" who was seen trying car doors was not a "psychotic vigilante", a jury heard.
Neil Charles, 47, was stabbed in the chest in Bury St Edmunds, Suffolk, on 20 June 2021.
Father and son David and Edward King, both of Radnor Close, deny murder.
Ipswich Crown Court heard the father was shown CCTV footage by his son of Mr Charles on his driveway and Mr King senior wanted to "stop and detain him".
Jason Bartfield QC, defending David King, 55, said it would have been "insanity" to leave the house unarmed, given that it was about 04:00 BST and criminals carrying out inquisitive crime would be expected to carry "tools of the trade".
Describing Mr Charles as "recidivist offender" he invited the jury to imagine the newspaper headlines "if David King had gone out unarmed and been attacked by Neil Charles and his accomplices".
Edward King, 19, left the house shortly before his father but went in the opposite direction to Mr Charles, the court heard.
"[David King] only went out to ensure that Edward did not get hurt; he wanted to protect his property and that of his neighbours and to detain Neil Charles and his accomplices if he could," said Mr Bartfield.
"Those intentions were entirely lawful."
'He needs help; he is fearful'
Mr Charles, when he encountered Mr King about 70m (230ft) from the Kings' home, did not run or cycle away, the court heard.
He was "aggressive", came towards Mr King and "used his bike as a weapon", throwing it at Mr King, the court heard.
In a 999 call, and when speaking to police at the scene, David King said he was not sure if Mr Charles was injured or "play acting", but may have been hurt when he ran at the knife he was holding.
"He immediately called 999 and asked for police and ambulance - if the Crown were right and he wanted to kill or seriously injure Neil Charles, why not inflict one more blow to make sure?" Mr Bartfield asked the jury.
Referring to Mr King on the recording of the call, he added: "Is it the demeanour of some psychotic vigilante who has gone out to kill somebody?
"He says he needs help; he is fearful."
David King's claim that Mr Charles ran at the knife was consistent with the pathologist's finding that the wound was horizontal, he added.
The court also heard that Mr Charles, who ran away 20 seconds into the 999 call, had a "cocktail" of drugs in his system.
"If he had been acting rationally he would've waited for the police and ambulance and received help," said Mr Bartfield, adding that Mr Charles was "scared of police, not David King".
Both men deny an alternative charge of manslaughter.
Related Internet Links
The BBC is not responsible for the content of external sites.