Sutton Hoo: Anglo-Saxon riches reunited for 'homecoming' show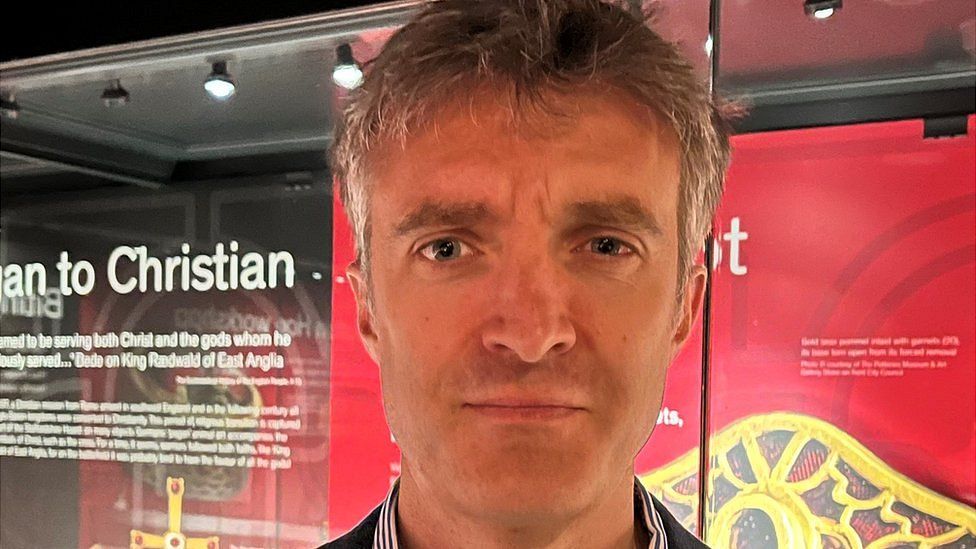 Two of the greatest finds of Anglo-Saxon treasure have been reunited to celebrate "striking similarities".
Precious artefacts uncovered during the 1939 excavation of Sutton Hoo in Suffolk will go on display alongside the Staffordshire Hoard at the site.
The British Museum has loaned items from the Anglo-Saxon ship burial, while the hoard is the largest collection of Anglo-Saxon gold and silver ever found.
Expert Chris Fern said: "It's a homecoming for these objects."
Mr Fern, an archaeologist and guest curator of the exhibition - called Swords of Kingdoms: The Staffordshire Hoard at Sutton Hoo - said it was a "dream come true" to have the trove back in East Anglia.
"Our research has shown the striking similarities between the two treasures in terms of their quality, animal art, materials," he said.
"We think it's very likely that the objects found in the Staffordshire Hoard were made here in East Anglia in the early royal kingdom in the Anglo-Saxon period.
"These are among the finest treasures from the medieval period from anywhere in Europe."
It's believed some Staffordshire items may have been made in the same 7th Century workshops that served royal Sutton Hoo, by master craftsmen and apprentices under the command of kings, princes and elite warriors.
Mr Fern, an expert on the hoard, said the era was "a bit like Game of Thrones" with different kingdoms across Anglo-Saxon England fighting for control.
Much of the haul featured weaponry fittings - thought to have come from swords produced for East Anglian warriors.
It's believed the riches were looted by the kingdom of Mercia during battles and ended up buried in the field.
The Sutton Hoo treasure was discovered when local archaeologist Basil Brown discovered a burial ship and a central chamber filled with pieces, including a warrior's helmet, a gold belt buckle, sword and shield, believed to have belonged to East Anglia ruler King Rædwald.
Laura Howarth, archaeology and engagement manager at the National Trust-run site, said the exhibition - postponed since 2020 due to Covid - was a "celebration of a golden age of Anglo-Saxon craftsmanship".
"It's poignant and significant that these objects are returning to us on loan," she said.
"What you'll see is the pinnacle of Anglo-Saxon craftsmanship - it's this golden and garnet-adorned age.
"It's remarkable to think these objects were made 1,400 years ago without artificial lighting and the wonders of modern technology."
The exhibition runs from 19 May to 30 October 2022 at Sutton Hoo.
Related Internet Links
The BBC is not responsible for the content of external sites.