Sports car crashes along residential Ipswich road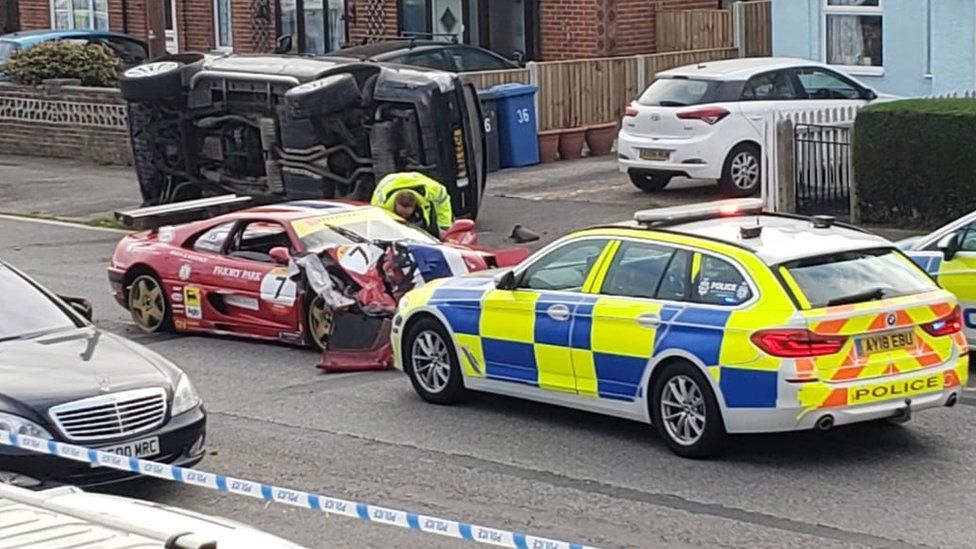 One person has been arrested after a sports car was involved in a two-vehicle collision in a 30mph road.
Police closed the road after the crash in Lindbergh Road in Ipswich, Suffolk just after 07:00 BST on Saturday.
One resident said the red sports car, which they described as a Ferrari racing car, was badly damaged while the other vehicle ended up on its side.
Suffolk Police said both vehicles had been recovered and the road had reopened.
It has not confirmed whether the person detained was driving either car.
Resident Gary Smith said he heard what "sounded like a racing car speeding down the road" but "dragging its undercarriage along".
When he went to see what had happened he saw another vehicle on its side.
"[The sports car] looked like a Ferrari Testarossa," he said.
"When I heard it, I thought it had hit the kerb, not another car."
The collision, first reported in the East Anglian Daily Times, happened just metres before the 30mph speed limit changes to a 20mph zone.