Parkrun: Barkrun being set up due to dog harness dispute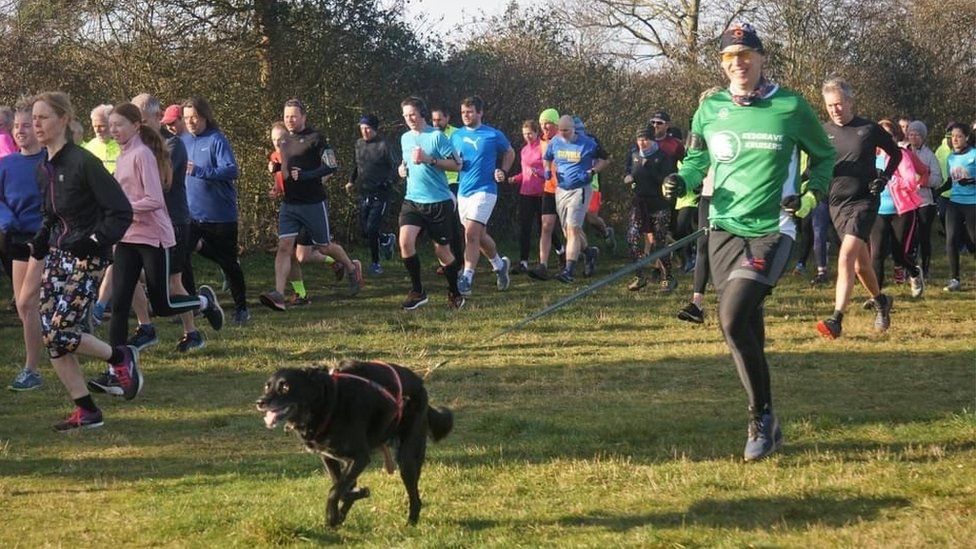 A runner is hoping to set up a new "Barkrun" event as the Parkrun organisation prepares to ban dogs tied to runners with harnesses.
The umbrella organisation behind the free weekly 5km (3.1-mile) running events said the rule change would start on 2 April for safety reasons.
Dogs could take part on short leads.
Kevin Ward, who runs at Kesgrave in Suffolk, said that would not be any safer and he was hoping to set up an alternative run for dog owners.
Parkrun said the change was being introduced because 10% of incidents involved dogs tied to harnesses which are worn around their owners' waists.
Instead participants must use a "short, hand-held, non-extendable lead" with the dog by their side.
Mr Ward, who does Parkrun with his dog Wilson, said he was "hugely disappointed" and that "people cheer on Wilson by name".
He said a "dog special" would be held at his local Kesgrave Parkrun on 26 March as that would be the last one before the new rule comes into force.
The 46-year-old said he was also hoping to set up an alternative event called Barkrun in Kesgrave, and noted several harness-friendly runs had already been set up across the country.
Mr Ward sometimes lets other runners take Wilson on the harness.
One of them, Amelia, 11, said her four-legged friend had helped her enjoy running again.
"Parkrun is now so much more enjoyable and I can tell he loves it too. Having the harness around my waist means I'm free to use my arms and keep my balance as well as being fun to wear.
"I really hope they [Parkrun] will overturn their decision."
Others have taken to social media to raise their concerns.
One person posted on the Parkrun Facebook page that it was a "misguided Parkrun HQ belief that running with a hand-held lead is far safer than running with a belt harness", adding it was "utterly ridiculous".
Another said: "Parkrun is inclusive to all except from April when those that want to run with a dog in the approved and safest manner will be excluded."
Suffolk-based pet food company Skinner's, one of the event supporters, said it did "not support" the decision and it was in discussions with the organisation.
Dogs Trust said there was "little evidence available associating injuries with running with a dog on a waist harness".
However, it said "running with a dog either on a handheld lead or waist harness can be potentially hazardous".
"Should the dog move direction or stop abruptly, there is a risk of injury to the runner, their dog, and other people," the animal welfare charity said.
A Parkrun spokesman said: "More than 10% of incidents at Parkrun events involve dogs, and as such we have spent significant time considering the nature, frequency, and severity of dog-related incidents."
It said evidence showed when participants use waist harnesses, there was an "increased risk of serious incidents, particularly trips and falls, compared to when using handheld leads".
Parkrun said it "absolutely" did still welcome those who wished to participate with a dog, where local risk assessments and landowners allow, but it "had to ensure we do so in a way that is safe for everyone".
Related Internet Links
The BBC is not responsible for the content of external sites.