Calls for new price cap on heating oil as cost of living rises
By Mariam Issimdar
BBC East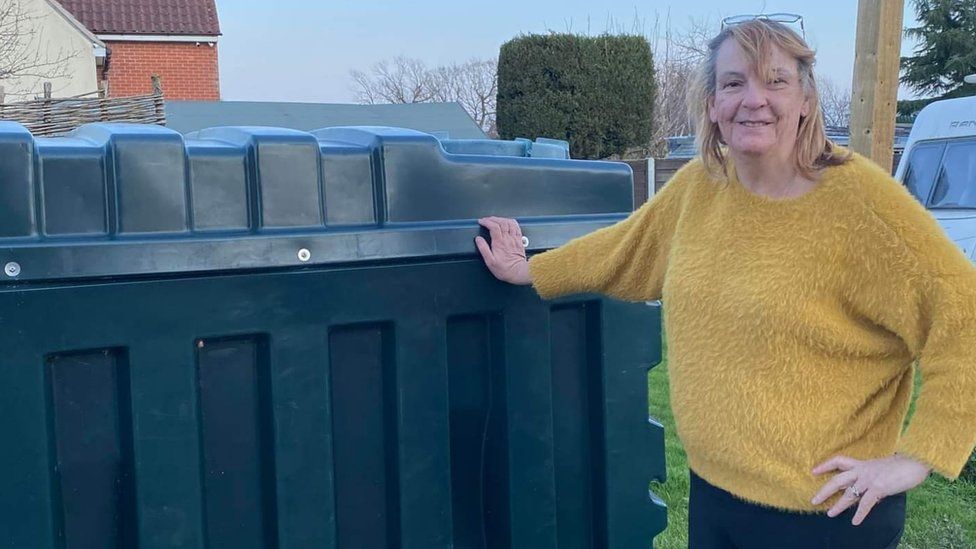 Often living in rural or isolated locations, it is thought about 1.5m households use oil to heat their homes. Like other forms of energy, the cost of oil has spiralled in recent months. But those who use oil are not protected by the energy price cap. How are they coping?
Eira Featley lives in a three-bedroom council house in Stoke Ash, near Eye, in Suffolk.
The single-mother's kerosene-fuelled boiler runs her central heating and hot water system.
Mrs Featley is also the full-time carer of her son, Steven, 27, who has a terminal liver disease and receives universal credit.
"We have to keep the home fairly warm for Steven because your liver controls your temperature," she said.
Like other heating oil users in England, Mrs Featley has to buy her kerosene in minimum batches of 500 litres (110 gallons).
Each batch, she said, will last three or four months.
Up until October, 500 litres of heating oil cost about £200.
Unlike gas and electricity, households do not to have a contract with any one company and instead buy from whichever supplier can do them the best deal.
In January Mrs Featley sought to top up her tank and was quoted £326 for 500 litres.
She said she would have struggled to pay this amount and sought help from her local Citizens Advice branch, which found a fund to pay for her heating oil.
"It was like winning the lottery," Mrs Featley said. "I felt like a weight had been lifted off my shoulders."
She is hoping the quantity will get her through until May when the weather should be warmer.
"It's going to be really tough," she said. "I'm going to worry about it, and that's causing more stress on what's already a stressed family.
"I might even have to borrow if it stays at the rate that it's at at the moment, because you can't keep asking for money from the Citizens Advice.
"There are other people out there who need it, but if it's £670 in May what am I going to do?"
Mrs Featley is not alone in her concerns.
In some areas residents team up to try and get a discount by purchasing oil in bulk.
But the Oil Club in south Norfolk said rates had gone up "exponentially" from an average of 55p per litre on 1 January before reaching 97p on 6 March.
Haydon Wilding, who runs the Hoops oil-buying syndicate on Suffolk's Shotley Peninsula, said customers had very little choice but to accept the price rises.
"We're all suffering, prices are going and up and up," he said.
"Now there's the problem that people are panic-buying, wanting to top up their tanks, because they can see the lead times (for delivery) are getting longer."
"The problem is that it is not a capped industry and is not regulated in any way," he said.
According to the website BoilerJuice, kerosene was selling for almost £1.34 per litre on 8 March, which makes the cost of 500 litres £703 including VAT - more than double the October price of about £340.
Tim Buckman, marketing officer at BoilerJuice, said both households and suppliers were struggling with unpredictable oil prices.
"There's usually a lag of a few days to a week or so from when a customer places an order to delivery," he said.
"But the prices are going up so quick - for suppliers [that] they risk delivering oil that costs more on the day than the price they sold it for 10 days earlier.
"Right now you're lucky if you can find a committed price and a committed delivery date."
On Thursday morning, the website could not supply a quote for heating oil for a postcode in Norfolk, citing a lack of suppliers due to extremely high demand.
Mid-Suffolk Citizens Advice, which serves the Stowmarket and Eye, said it fears more and more people will struggle with rising oil costs.
Clare Peake, an energy specialist, has seen a doubling in cases of people worried about energy bills.
"It started in November time when 500 litres of oil was about £280," she said.
"And within this week I've seen people saying they have been quoted anything from £500, £600 to £1000.
"We're very rural in this part of Suffolk. You don't have to go very far outside the town of Stowmarket to be having oil."
She said a lot of local authority properties had oil or electric heating - both of which are becoming increasingly expensive.
Ms Peake said some of those seeking in advice did not have the money to buy the minimum 500l.
"It is quite scary for them, thinking that you're going to be cold," she said.
"I see people that manage their budgets incredibly well but just can't make their pennies go any further."
She said a regulator or other legislation was needed to protect people with no option but to use heating oil.
Citizens Advice would also like to see the government expand its warm home discount and make it more generous for people on lower incomes, to offset higher energy costs.
Alison Murray-Brown lives in a four-bedroomed house in Orwell, a village seven miles (11km) outside Cambridge with her husband and dog. The village is not on mains gas.
In December they paid £306 for 500 litres. On 2 March she ordered 500 litres to be delivered in two weeks time at a cost of £440.
Mrs Murray-Brown said she thought the price a bit "steep" until a friend told her two days later that she had paid £770 for the same amount.
"We're neither rich nor poor, we haven't got kids to support but it's absolutely not sustainable for people to be spending in the region of nearly £500 a month to run their heating," the financial consultant said.
"That's aside from the fact that electricity bills will be going up as well."
Mrs Murray-Brown said a number of friends planned to turn their heating off, including one lady in her village with a baby.
"She said we're just going to use our wood burner, we're not going to use anything else," she said.
"We're an affluent south Cambs village and I never really thought that 'heat or eat' would really bite home here, it's crazy.
"I think it's absolutely criminal that it (heating oil) is absolutely uncapped so the price has no ceiling on it whatsoever.
"I think the government does have a duty of care, there are people who won't be able to heat there homes here."
The government said it had no plans to set a price cap on heating oil but added the supply of heating oil and liquid petroleum gas were subject to UK competition law and consumer protection.
A spokesperson for the Department for Business, Energy and Industrial Strategy said: "In the longer term, improving the energy efficiency of our homes and buildings is vital to keeping household energy costs down and reducing carbon emissions, which is why are driving £6bn into making homes more energy efficient over the next ten years."
Related Internet Links
The BBC is not responsible for the content of external sites.