Dementia care village approved for Haverhill in Suffolk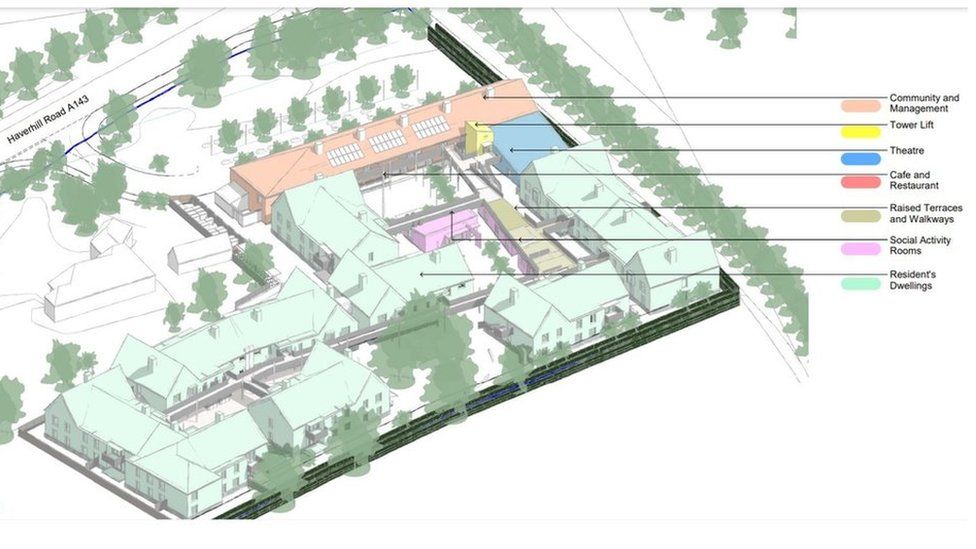 Plans have been approved for a self-contained care village for people with dementia that has been described as the first of its kind in the country.
Care (Little Court) Ltd was given planning permission to develop land off the A143 at Little Wratting near Haverhill in Suffolk.
The specialist village for up to 120 people will enable residents to "live life as normal" backers said.
It is based on a Dutch model called Hogeweyk.
Care (Little Court) Ltd said of the Hogeweyk philosophy: "It's small-group living, meaningful occupation - so actually doing things, getting up in the morning and going out to do things, and also freedom to roam in a safe and secure environment."
The village would include clinic rooms, a pub, community hall and restaurant.
Residents would live in a "family-type setting" of six-bedroom shared apartments.
The site was not in an area that West Suffolk Council had designated for residential settlement, meaning development was contrary to its planning policies.
But its proximity to the Great Wisley Park housing development, coupled with the specific provision for people with dementia and the need for that to be in a quieter area, meant that the council's development control committee decided it was an acceptable departure, reported the Local Democracy Reporting Service.
Concerns were raised over whether the site was the right one and over potential impact on GP and other health services in the area.
Conservative councillor Susan Glossop said the development was "laudable", but questioned how secure the site would be to stop people wandering to the A143.
Independent councillor John Burns said that while he was supportive of specialist dementia care, he called the £33,526 contribution the developer must make to local healthcare infrastructure as part of the planning conditions "a pittance".
The village was expected to open in 2023.
Related Internet Links
The BBC is not responsible for the content of external sites.