Covid: Ipswich school reintroduces mask-wearing in lessons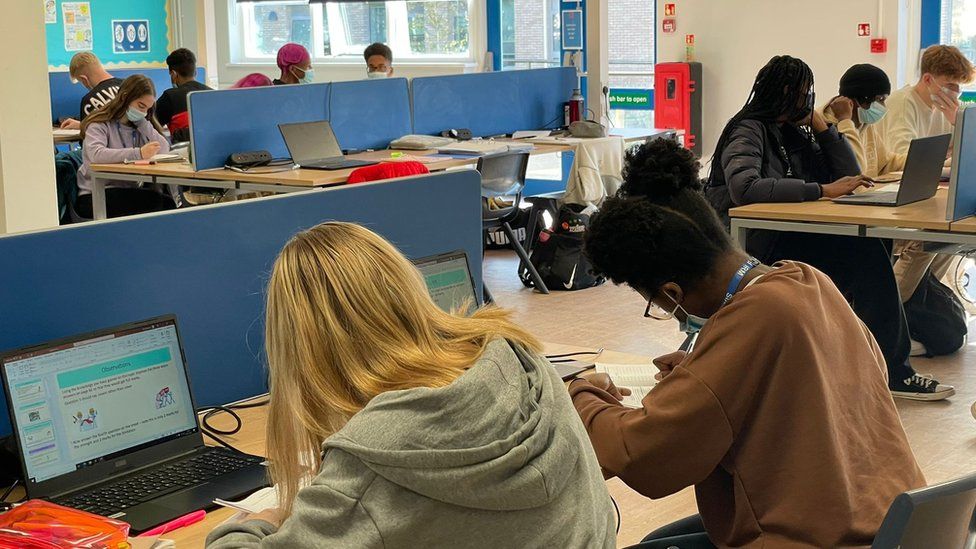 Concerns about rising Covid cases in Suffolk has resulted in the county being designated an enhanced response area which means it is receiving extra help from government to try and stem transmissions. Schools in the county have reintroduced face masks in communal areas, but one has gone further with pupils now wearing them in lessons too.
At Copleston High School in Ipswich, principal Andy Green decided his pupils would wear masks throughout school, including in class, due to the high case rates in Ipswich, which has 566 cases per 100,000 people in the week to 28 October, compared to 435 across England as a whole. Ipswich's rate was improving, as it had been 760 cases per 100,000 people in the week to 21 October.
Across Suffolk, the rate of infection was 446 cases per 100,000 people in the week to 28 October, a drop of 17% when compared to the week before half-term.
"In terms of bringing them back in lessons as well as communal areas, students no longer have to socially-distance in lessons, they'll be sitting right next to each other at desks, almost touching elbows if you will," says Mr Green.
He believes wearing them in lessons "would be the right thing to do and is going to provide the best protective measures".
"We understand they're not always comfortable to wear... but in order to keep students in schools, to give them the best chance of being educated, that's why we've brought them in classrooms as well," he says.
'You need to feel comfortable'
Copleston sixth-formers Scarlett and Joe understand the reasons why they have been asked to don masks in class.
"I think it's very important, because you need to feel comfortable and can progress and learn in your subjects, and masks are a good way to help you feel confident in coming back to school," says Scarlett.
"I think it's important we put in place measures that protect students and make sure they're not at risk of catching Covid, because it means they're able to come into school and get the valuable learning, some of which they missed out on," adds Joe.
Vaccination 'hit and miss'
Geoff Barton, general secretary of the Association of School and College Leaders, says restrictions in schools depend partly on how well the vaccination programme for 12 to 15-year-olds is going.
He says the rollout and uptake has "been a bit hit and miss so far".
"The vaccination programme has been too slow, the ventilation system [in school buildings] has been too slow," he says.
"They [the government] need to get their act together and make those things happen... so we can start to get some kind of normality for young people."
But Mr Barton does not support the view that all schools in the county should adopt mask-wearing in classrooms, since schools were "different in terms of the population, in terms of the ventilation, in terms of the width of their corridors".
"I think what we might see over the next couple of weeks is some turbulence... disruption for some young people... and that's dependent on whether the vaccinations for 12 to 15-year-olds have kicked in," he says.
Mr Barton, who was head teacher at King Edward VI School in Bury St Edmunds, says it is important for families to continue testing children twice-weekly at home using lateral flow tests, and to self-isolate if necessary.
Although not endorsed by government, he says he understands why there have been calls for siblings of children who tested positive to stay away from school too, to prevent infection spread.
In neighbouring Norfolk, where Covid numbers are lower, one school has seen all its staff wearing masks in class again since September.
Penny Sheppard, head teacher at Queen's Hill Primary and Nursery in Norwich, says they took the decision as not all staff have been double-vaccinated.
She says pupils and staff who have become ill also tended to take a PCR test to distinguish Covid from any other illness.
"I'm not sure we need compulsory measures across Norfolk as each school is very different," Ms Sheppard says.
"We've got Victorian schools, modern schools like the one here, where we've got very good ventilation."
With sizes of primary schools ranging from 40 children to 600, Ms Sheppard believes "each school had to assess their own risk".
Related Internet Links
The BBC is not responsible for the content of external sites.