Suffolk Pontins death: Dad died after 'excessive' restraint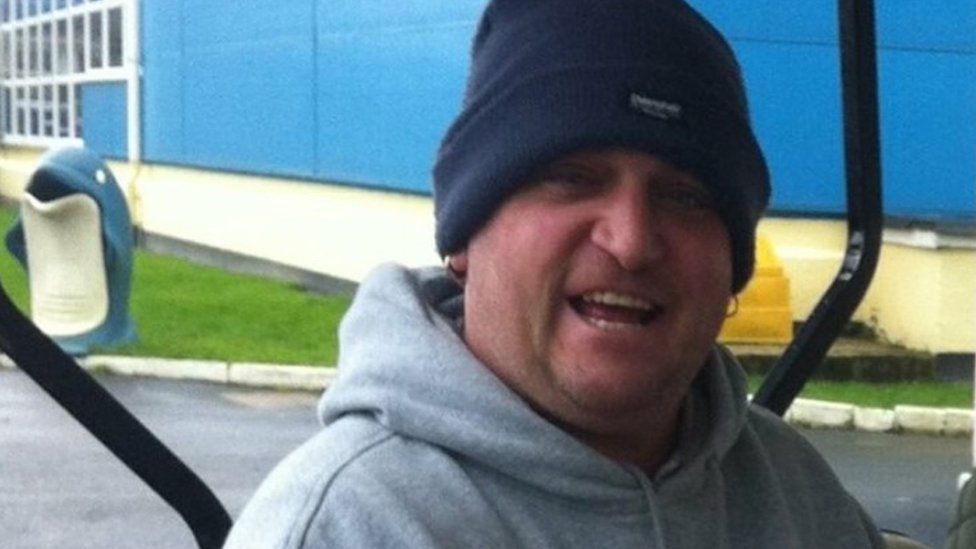 A father died after he was placed in an "excessive and inappropriate" restraint following an altercation at a holiday park in 2017, an inquest heard.
Paul Reynolds, of Colchester, was held by security staff at Pontins Pakefield in Suffolk until police arrived.
While being transported by police, the 38-year-old became ill, was transferred to an ambulance and died in hospital two days later.
The inquest jury concluded the security staff's actions led to his death.
His partner Carrie Bennett, who described Mr Reynolds as "loveable", welcomed the jury's conclusion with "huge relief and gratitude".
During the three-week inquest at Suffolk Coroner's Court in Ipswich, it was heard the altercation happened between guests in the ballroom of the holiday park in Lowestoft on 14 February 2017.
Mr Reynolds, also known as Paul Gladwell, was restrained by Security Industry Authority-trained staff until police arrived, the court heard.
He died on 16 February, due to "complications arising from the restraint of an intoxicated obese individual in a prone position with compression of the neck and potential obstruction of the upper airways".
The inquest heard he was restrained with a neck hold, which should only be used when in "fear of your life".
He was then held in the prone position with his hands behind his back for about 11 minutes, with a knee to the left side of his back.
His legs were held folded in the "four" position, a hold used by the police and prison service as a "last resort in specific extreme circumstances", the jury was told.
It was said in the narrative conclusion that Mr Reynolds was "not physically violent".
The jury gave a narrative conclusion that said the neck hold was a "deliberate and unlawful act which contributed to his death".
It also said the restraint was "disproportionate to the situation" and a "dangerous, excessive use of force".
The jury concluded: "If Mr Reynolds had not been restrained by the neck and held in the prone position he would have lived."
Concerns were also raised about the actions taken by the attending police officers.
The jury recorded that police failed to reassess Mr Reynolds's condition once he was in a sitting position, and they failed to reduce the risk to others present by turning off the music and clearing the ballroom.
Suffolk's area coroner Jacqueline Devonish said she would issue a Prevention of Future Deaths report to Pontins over concerns about staff training.
She said she would also issue the report to Suffolk Police and the National Police Chiefs Council.
A Suffolk Police spokesman said: "Following Mr Reynolds' death, a review of our first aid training took place and changes were implemented. We continue to keep this under review."
Related Internet Links
The BBC is not responsible for the content of external sites.