Election 2021: Conservative Tim Passmore retains Suffolk PCC job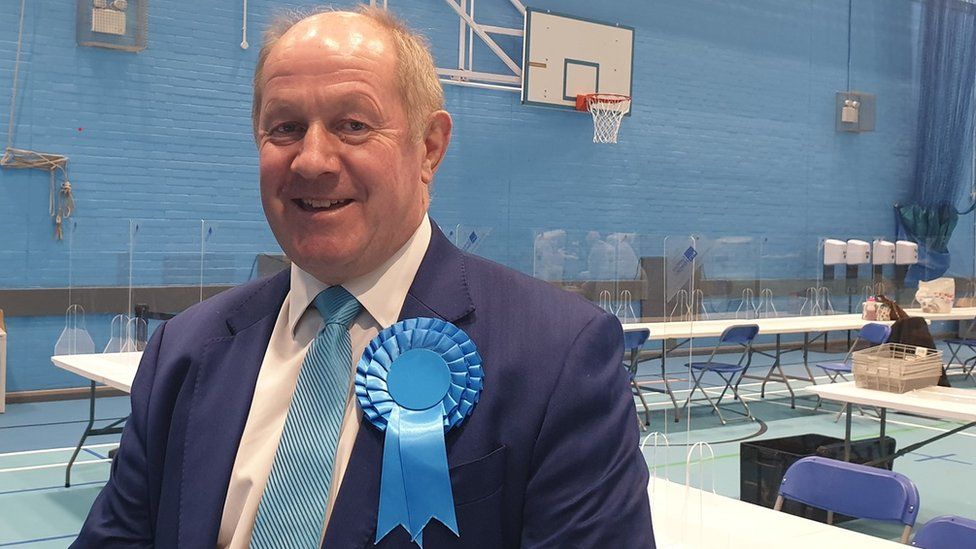 The Conservative candidate Tim Passmore has been elected as Suffolk's police and crime commissioner (PCC) for a third time.
Mr Passmore retained the post after increasing his majority to take almost 55% of the votes, securing a first round victory.
Labour's Elizabeth Hughes was second with 23% of votes.
The Greens' Andy Patmore upped the party's share from 5% in 2016 to come third with more than 13% of votes cast.
Lib Dem James Sandbach came fourth.
Mr Passmore's majority in the first round of counting means there is no need for a second round, where voters' second preferences are added to the two leading candidates' first round totals under the supplementary vote system.
BBC East political reporter Vikki Irwin said: "It's not unexpected with the Conservative victories across Suffolk in the other local elections."
Turnout was 36.8%, compared to 24% for the PCC election in 2016.
Mr Passmore paid tribute to his family and supporters, and also the other candidates who have had to campaign under difficult circumstances during the pandemic.
PCCs are elected to oversee the work of their local police force and almost 36% of the electorate took part in voting for a PCC in this election compared to 24%.
Commissioners are elected using the supplementary vote system, with people making a first and second choice.
If no candidate gets more than 50% of the first-choice votes, all except the top two candidates are eliminated.
At that stage, the second votes of those residents whose first choice has been eliminated are counted.
Related Internet Links
The BBC is not responsible for the content of external sites.