The Dig: Lego version of Sutton Hoo treasure 'amazing'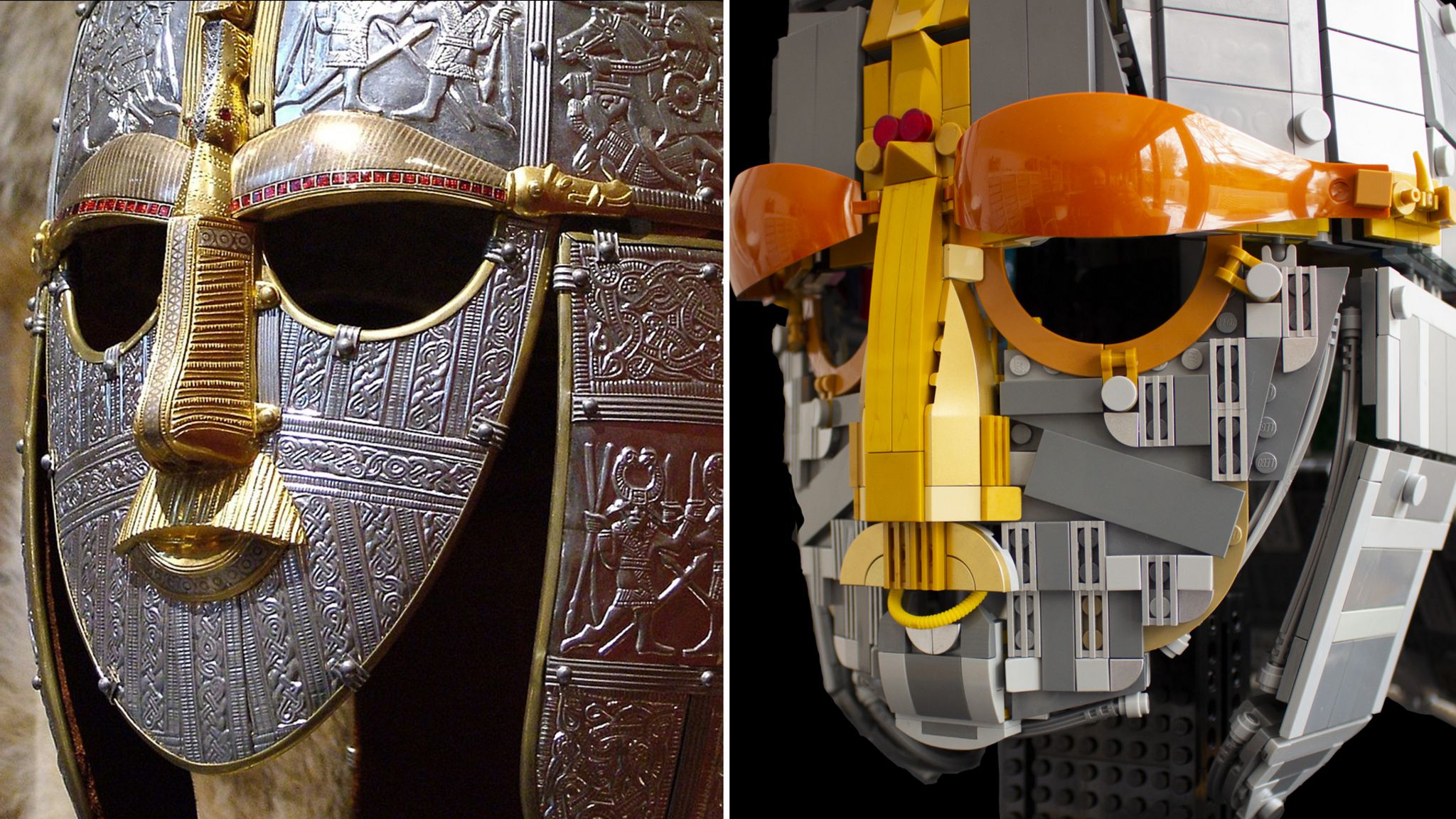 A father and daughter who built a Lego replica of a helmet found at Sutton Hoo have been told their creation could go on display at the historical site.
Andrew Webb, 45, and his daughter Matilda, 11, from Essex, spent lockdown making the likeness of the Anglo Saxon treasure found in Suffolk in 1939.
Josh Ward, from National Trust, said it was an "absolutely fantastic creation".
"It'd be absolutely wonderful to display it next to one of our replica helmets," he said.
The helmet was uncovered during the excavation of a ship and is thought to belong to King Raedwald.
"It's quite incredible for us simply because when the Sutton Hoo helmet was originally discovered, it had actually been broken up into several hundred fragments," said Mr Ward.
Mr Webb, who lives in Saffron Walden, said their version was made up of about 1,000 Lego pieces.
"The Sutton Hoo helmet is this region's gift to the world," he said. "It's just a fascinating story for anyone to get involved with history, particularly kids."
The Lego helmet, while wearable, is "probably about as fragile as the original", and needed to be three bricks thick to hold its shape, Mr Webb said.
"It's not like a Stormtrooper's helmet that's all encased in one, it's got neck plates and side plates."
The design has been submitted to Lego Ideas, which allows building enthusiasts to submit original designs online, with some being turned into saleable products.
Matilda said after the success of this build, she would love to create a whole range of historical headwear, and suggested they might try an Egyptian or Samurai project next.
"I quite like designing things and coming up with ideas, but he's [Andrew's] much better at constructing things and making it hold together," she said.
"I prefer to do all the characters and design."
Related Internet Links
The BBC is not responsible for the content of external sites.