Covid-19 tiers: Suffolk placed in tier 2 restrictions
Suffolk will be placed in tier two when England's second lockdown ends on 2 December, it has been announced.
The rule of six will apply to gatherings outdoors and pubs and restaurants will shut at 23:00 GMT and only be allowed to serve alcohol as part of a meal.
Prior to England's second lockdown, Suffolk was in tier one, the lowest level of Covid-19 restrictions.
The hospitality sector had been hoping to recoup some of its losses in the festive period.
Ashley Stock, 32, director of Stock and Bailey, which runs The Ram in Hadleigh, Suffolk, and a wine bar in Colchester, said the move into tier two was not ideal.
"It is what it is, and we have to make it work," he said.
Co-director Paul Bailey, 43, said the business faced "challenging times" but they were well supported and he "remained optimistic".
But Andy Davis, 36, pub manager of The George in Hadleigh, said the next few weeks "would be a bit of a struggle".
"At the end of the day, we're a pub that serves food, we're not a restaurant, so I'm going to have to see," he said.
"It's going to be extremely hard to make the business viable and make every single person who walks through the door have a meal."
Peter Aldous, Conservative MP for Waveney, said he hoped "if things move in the right direction, we can be out of tier two in a month's time".
He has appealed for help for the hospitality industry, which he said would be "hit hardest".
The letter accused the government of scapegoating pubs "despite a lack of evidence".
The pubs also demanded financial support in line with the first lockdown, immediate changes to business rates and a cut in beer duty, if restrictions were not relaxed.
Stuart Keeble, Suffolk's director of public health, said: "We need to stick with it.
"With current infection rates and pressure being put on health services, we need to do more of what we have been doing."
Suffolk's move to tier two restrictions means a maximum of 2,000 people can be admitted to Portman Road to watch Ipswich Town play in League One once lockdown ends.
It has been confirmed by the Government that Suffolk has been placed in tier two, meaning the Club can be permitted up to 2000 fans to return to Portman Road from December 2.

The Club will release full details in due course. #itfc pic.twitter.com/EgsnN5Oydy

— Ipswich Town FC (@IpswichTown) November 26, 2020
The county's current infection rate of 85 cases per 100,000 people was more than double what it was when Suffolk entered tier one on 14 October, Suffolk Public Health said.
At the beginning of September, there were just five cases per 100,000 people.
Parts of Suffolk, especially Ipswich and Hadleigh, are seeing much higher numbers of positive cases than anticipated.
There were 116 Covid-19 patients in Suffolk hospital beds as of 23 November.
The Health Secretary and MP for West Suffolk, Matthew Hancock, said despite his own constituency having the lowest case rate for over-60s in the whole country, the county as a whole needed to be in tier two "to get the virus further under control".
"I hope Suffolk and so many other parts of the country can get to tier one soon and the more people stick to the rules the quicker that will happen," said Mr Hancock.
The government said it would be regularly reviewed and an area's tier level may change before Christmas. The first review is scheduled for 16 December.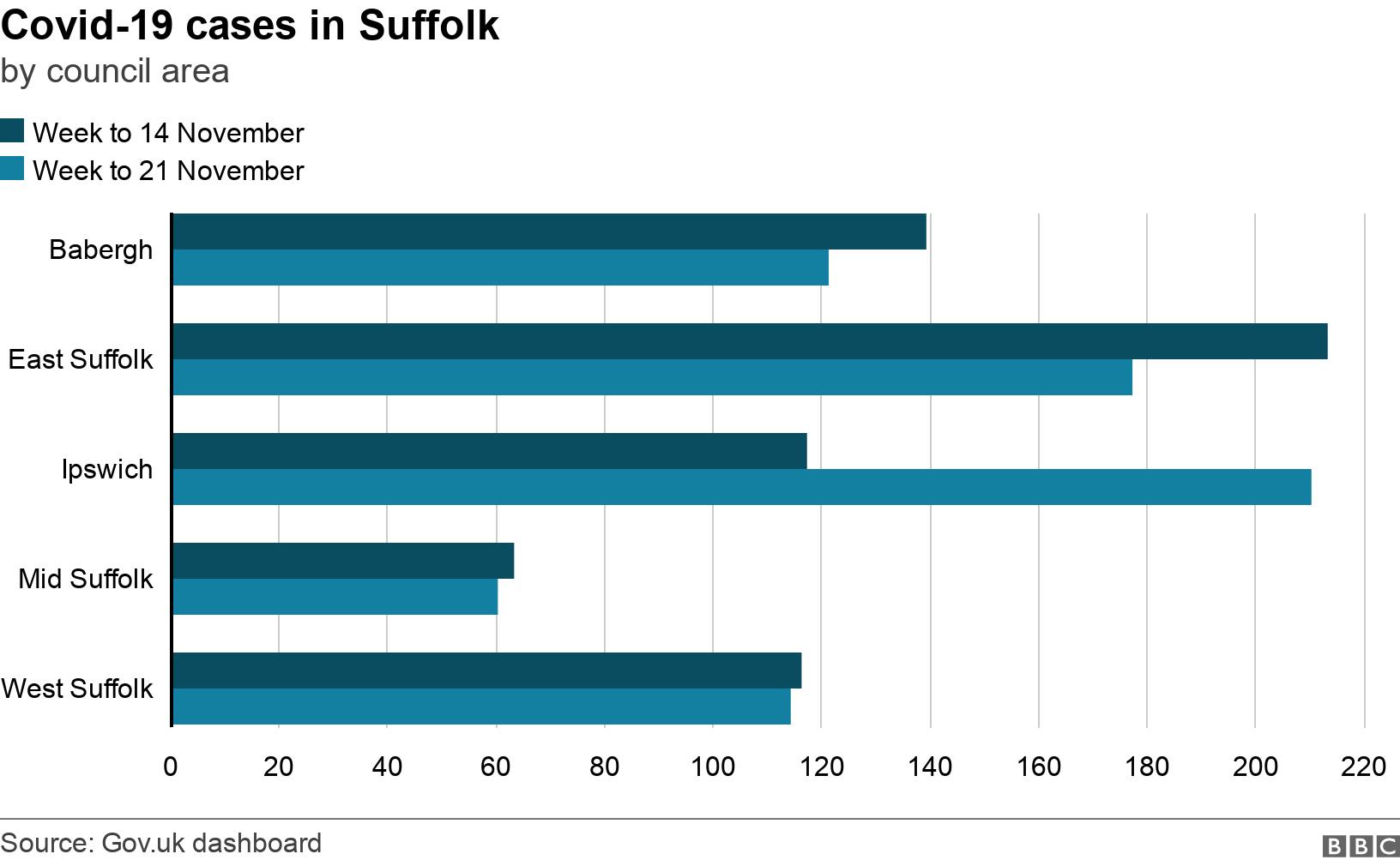 The rates in all districts in Suffolk, except Ipswich, have fallen week-on-week.
The districts of Mid Suffolk, West Suffolk, and East Suffolk have had some of the lowest rates of Covid-19 since the end of the first lockdown.