Armistice Day: Suffolk's 'thank God church' in Kersey honours fallen airman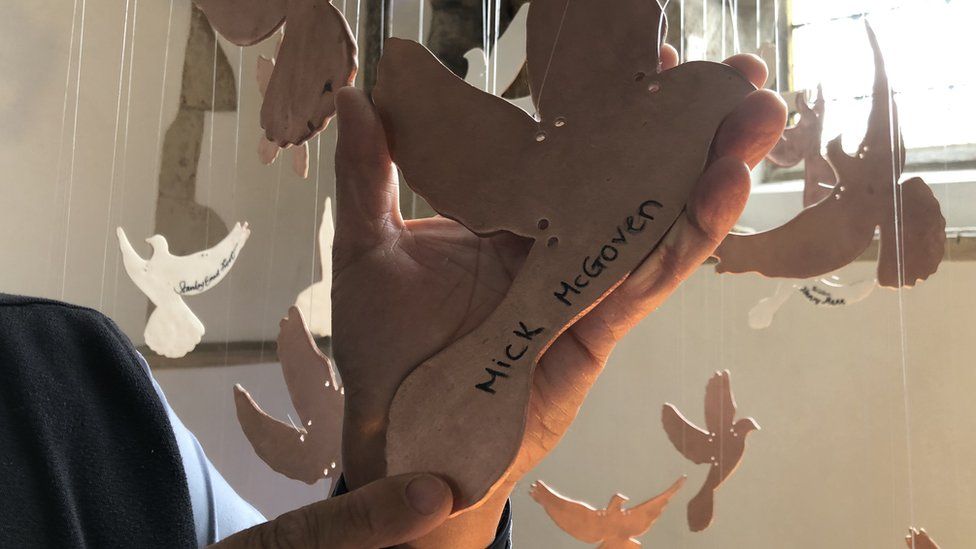 A World War Two veteran who survived a bombing flight has thanked his church for honouring a friend who died on that mission in 1944.
Dougie Vince, 97, was on a plane which landed on fire near Kersey in Suffolk, killing Mick McGoven.
St Mary's was known as the "thank God church" as it was lit up as a beacon for bombers returning to the UK.
It has created ceramic doves in memory of those on the village roll of honour and included one for the fallen airman.
During the war, the church was lit up by searchlights to guide pilots returning from the continent.
Parishioners originally created 89 doves - one for each of the local men who served in the conflict and never returned - for an art exhibition to mark Remembrance Day.
Then, its vicar, the Reverend Jackson Crompton-Battersby, discovered that Mr Vince, one of his congregation, had been a flight engineer on board the bomber as it made its way back to base, just outside Lowestoft.
The plane had been shot at and was on fire as the crew searched for somewhere to land, eventually spotting the lit-up church.
The pilot was then able to work out where the nearest landing site was.
Because it was able to land quickly, most of the crew made it out alive, but Mick McGoven, who was the rear gunner, died.
"Dougie tried to fight the fire in an attempt to save his friend... severely damaging his hand as he fought the blaze," the vicar said.
Mr Crompton-Battersby said that after finding out the story, the church decided to create a 90th dove, in honour of the Canadian volunteer.
Mr Vince, who has stayed in contact with his friend's family, told the vicar that remembering him alongside the local men "means a lot".
"It's so important to me that Mick is remembered," he said.
"I don't choose to remember much about that night. Losing Mick was too painful."