Maggi Hambling: BBC documentary celebrates 'extraordinary' artist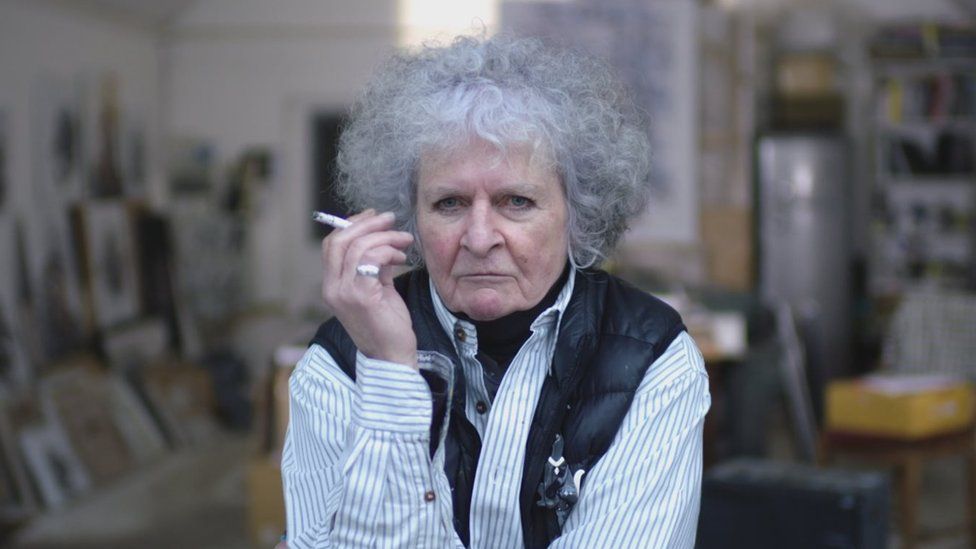 A new documentary aims to celebrate "one of Britain's greatest artists" and put her firmly in the public's consciousness, its director said.
Randall Wright said it showed her "ferocious" side and the lesser known "private and fragile Maggi the artist".
Hambling, who has turned 75, said: "I'm used to making portraits of people and Randall has made a portrait of me and that's quite alarming."
In the documentary she reveals she wakes up at 05:00 every day and the first thing she does is draw.
Her works include land and seascapes, including the celebrated North Sea paintings, portraits, paintings of the dead and sculptures in tribute to composer Benjamin Britten and writer Oscar Wilde.
"The artist doesn't choose the subject, the subject chooses the artist," she said.
"If something moves me sufficiently I'm forced to do something about it in my work."
Maggi Hambling: The 'ferocious' artist
Maggi Hambling was born in Sudbury, Suffolk and divides her time between the county and London
She went to Amberfield School in Nacton, the East Anglian School of Painting and Drawing in Hadleigh, Ipswich School of Art, Camberwell and the Slade art schools in London
Hambling became the first artist in residence at The National Gallery in 1980
She is known for what she describes as "rebellion lesbionic antics", including sporting a moustache when she was a team captain on Channel 4's Gallery art quiz show in the early 1990s
Hambling is usually photographed with a cigarette which she says is to show it is important for people to have freedom of choice
She was appointed CBE in 2009
Visit the Maggi Hambling website
Mr Wright said it was an "incredible accolade" for the BBC to produce a one-off documentary on the painter who was the first artist in residence at the National Gallery.
"Maggi is one of our greatest artists and perhaps the greatest living artist we have, but it's also true that she may not have been noticed.
"It's high-time a film was made and we look at her work and see the poetry and originality," he said.
Mr Wright, who has also made films about David Hockney and Lucian Freud, said he wanted to "break through the performer who does not want to answer questions, to understand the origins of her work".
He added: "She is a ferocious, powerful, emotional, wonderful, uncompromising character who pours out her feelings about what can often be frightening things - war, disaster, death - in her paintings. All of that is extraordinary."
Related Internet Links
The BBC is not responsible for the content of external sites.