Ipswich supported living tenants put 'at risk' by care failures
By Matt Precey & Vikki Irwin
BBC East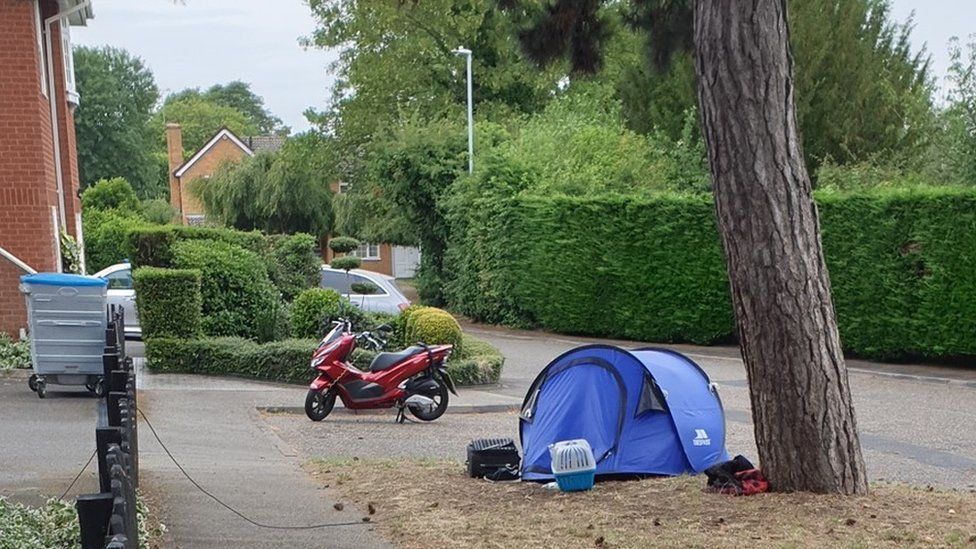 Vulnerable people were put at risk as a supported living facility spiralled "out of control", a new report said.
Emergency services were called to Stella Maris, Sproughton, near Ipswich, more than 300 times in 18 months.
An independent inquiry has catalogued a string of failures by Suffolk County Council, a private care provider and the local mental health trust.
Council leader Matthew Hicks said the report made "sobering reading" and the issues were being addressed.
The council commissioned the report after concerns were raised by neighbours of the seven flats, near Chantry Park.
It detailed "hundreds of incidents", including tenants tying ligatures around their necks and self-harming; fires, threats and harassment.
Allegations of criminal behaviour "in the highly-charged environment" were assessed by police who concluded the alleged perpetrators and victims were vulnerable and "rightly concluded the best way forward was a multi-agency strategy for the individuals concerned".
People with a range of complex needs, including mental health problems, were placed in the flats in December 2018.
Tenants were placed "without sufficient due diligence" and the level of care provided by Swanton Care, the company commissioned by the council, "fell short" of what was required.
None of the agencies involved communicated adequately with local residents as the situation deteriorated, the report said.
Repeated efforts by Swanton Care to alert the council to the worsening situation "fell on deaf ears" and senior management at the authority were not informed of the problems by more junior staff for at least a year.
Report author Anthony Douglas said it was "more by luck than judgement" residents did not come to serious harm.
Neighbours told the BBC how their lives had been blighted by constant anti-social behaviour.
Stephen Morton described seeing a female resident lying in the middle of a busy road, causing traffic to back up, and, on another occasion, jumping in front of a delivery van.
He said he was unable to have his three-year-old granddaughter round after pills were thrown into his garden
"If [she] had discovered them, then who knows what the implications may have been?" he said.
'I don't like living in this house any more'
For 14 months, neighbour Stephen Morton kept a daily log of incidents. It runs to almost 50 pages. Here are some typical entries:
22 March 2020: 1545-1600 Threatening words and abusive behaviour. Shortly after I hear the sound of glass smashing.
18 July 2020: 1820 Arguments in the street between ******, the boyfriend and *****. It is now 1845 and still continues with three staff present. I then see ***** standing in the road in front of an Argos van. She is moved to the pavement and then back to Stella Maris Court then things get worse. 3 police cars and 6 police arrive.
17 August 2019: Phones police, 2 cars arrived. Shouting, screaming and threatening behaviour
13 April 2020: 1700 OMG! Woman laying in Hadleigh Road.
18 August 2020: 0815am ***** can be heard shouting screaming and swearing from inside the building. This continues for 20 minutes. At 1230pm she is at the office door. More of the same. Banging her head against the glass and threatening to slit her wrists.
One resident of the complex - who the BBC is not identifying - said things improved after new staff were brought in.
"I've never meant to cause anyone harm or distress," she said.
"If I'm not listened to that stresses me out more and then I get out of hand; then I lose my temper
"The staff that were there previously; they couldn't control any of us."
Suffolk County Council's Conservative leader Mr Hicks said the report made "sobering reading, and demonstrates months of upset and distress for both tenants and residents", saying the council and its partners would work to address the recommendations.
"We are already reviewing how social workers support people with poor mental health and we have already strengthened our service development and contracts management arrangements," he said.
"We will work with partners to improve housing provision for people with complex needs.
"For Suffolk County Council's role in this situation, I offer a sincere apology to those who have been impacted."
Mason Fitzgerald, deputy chief executive at Norfolk and Suffolk NHS Foundation Trust, which runs mental health services, said the trust accepted it had "work to do" to improve partnerships with other organisations.
"The report also highlights the need for a personality disorder strategy for Suffolk. I am pleased to say that a new way of caring for people with personality disorders is due to start in Suffolk in 2021," he said.
A spokesman for Swanton Care said it would "like to apologise to the local community for the distress they suffered as a result of the historical issues of noise and anti-social behaviour".
He added: "We have always sought to keep our commissioning partners and the CQC (Care Quality Commission) involved in the issues that we faced at the Stella Maris apartments, but as these snowballed it is true that we were inadequate at working together effectively.
"This report, which noted that a number of the people that we supported had progressed with their lives at Stella Maris, is an opportunity to ensure that all vulnerable people in Suffolk are specifically given support services that meet their ever-changing needs from day one."
Related Internet Links
The BBC is not responsible for the content of external sites.