Babergh District Council's name change plan as 'no-one can say it'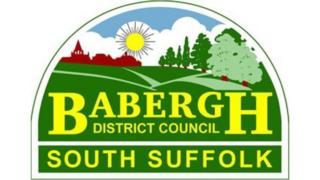 A council wants to change its name at a cost of £10,000 because no-one knows where it is or how to pronounce it, it says.
Suffolk's Babergh District Council - pronounced "Bay-ber" - takes its name from the Anglo-Saxon place name Barberga and has existed since 1974.
The district was first listed in the Domesday Book in 1086.
The authority plans to change its name to South Suffolk Council to make its location more obvious.
It is also hoped the change, which the council has said will cost less than £10,000, will help bring investment to the region.
Leader of the authority John Ward said: "Babergh has a proud history but we know that people from further afield are often unaware of exactly where Babergh is and even struggle over its pronunciation.
"By renaming to South Suffolk we can be clear about who we are, where we are and what we represent - as well as clearly identifying the council, it will also align with the name of our parliamentary constituency, cutting down on any confusion."
Councillors are due to make a decision on the proposed name change on 22 October.
---
'Bay-ber'
According to Dr Jenny Amos, lecturer in English at the University of Suffolk, there are two likely possible derivations of the word Babergh.
A compound of the name 'Babba' and the Anglo Saxon word for 'stronghold' (burh or burg)
In the Domesday Book, 'Babergh' was also 'Badberge'. The Old English for 'hill' was beorg or beorh
She said sounds continuing into modern language was possibly responsible for the pronunciation.
The Old English sound 'æ' has modern equivalents in a word like 'bade', which likely explains the first syllable but sounds like 'gh' have been silenced over time, explaining the second syllable
Dr Amos said: "Put all that mess of linguistic history together, and you end up with 'bay-ber'."