Suffolk ram-raid: Petrol station hit in Hadleigh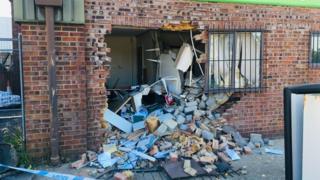 A hole has been smashed through an office wall after ram-raiders targeted a town's petrol station.
Suffolk Police said the incident at Lady Lane in Hadleigh, Suffolk, happened just after 03:00 BST.
The force said a van was used to pull the wall away from the side of the building and a safe was removed. The safe was left behind, but cash was stolen from inside it.
Store manager Kathy Adams said the damage was "heartbreaking" to see.
"It's such a mess. It doesn't look like they got away with much, but the damage they've done..." she said.
She said the Gulf petrol station, which has a Londis store, would be closed for most of Friday.
Police said a white Nissan Primastar van was used in the raid.
A van, believed to be the same vehicle, was later found on fire at Gippeswyk Park, Ipswich.
Officers said it is thought the van, containing tools, was stolen from Martens Lane in Polstead on 27 June.
It is the second time the petrol station has been targeted.
It was previously hit in February 2017. On that occasion, the ram-raiders went straight through the front of building.
There have been a string of ram-raids on convenience stores across East Anglia.
Buildings targeted include Co-Op stores in Combs Ford and Brantham plus a McColl's store in Ipswich.