Election results: Labour holds Ipswich as Tories lose seats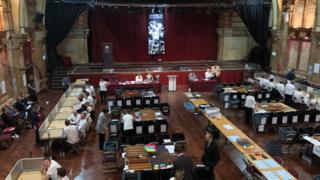 Labour has retained control and strengthened its hold of Ipswich Borough Council, winning two seats from the Conservatives.
Labour gained Whitton and Rushmere wards and the Tories also lost a third seat, St Margarets, to the Liberal Democrats.
Sixteen seats were contested and Labour now has 36, the Conservatives have nine and the Liberal Democrats hold three.
In the 2017 general election, the sitting Conservative MP lost to Labour.
Ian Fisher, Conservative leader at the borough council, said they had a "good" campaign but it was "drowned out" by national politics and Brexit.
He said: "It's never great to lose any councillor, they are all good, hardworking councillors, but in all honesty we always knew this year was going to be tough as we were defending seats we won in a general election year [2015]."
Conservative MP Ben Gummer retained his Ipswich parliamentary seat in 2015, but lost it in the 2017 general election to Labour's Sandy Martin.
'Astonishingly grateful'
Meanwhile, Labour leader of Ipswich Borough Council, David Ellesmere, said he was pleased with the outcome.
"People do think the council is well run and they have voted accordingly," he said.
The Liberal Democrats made a clean sweep in St Margarets, with Tim Lockington taking a majority of 906.
He said he was "astonishingly grateful" to the voters.
None of the Green Party or independent candidates won a seat.
Voter turnout in Ipswich was 30.4% on Thursday.
Ipswich Borough Council said there was a "brief delay" at the election count due to a "slightly higher number" of spoilt ballot papers compared to other years.
It said some of them had phrases relating to Brexit written on them.
Newly-merged councils
The reorganisation of local government in Suffolk has also brought some prominent casualties.
Two former Conservative leaders of Suffolk County Council failed to get elected to the two new district councils.
Colin Noble, who replaced Mark Bee as county council leader in 2015, failed to win a seat at West Suffolk Council where the Conservatives have a majority of eight over other parties.
The new district council held its first elections since it was formed from the merger of Forest Heath District Council and St Edmundsbury Borough Council.
The former Conservative leader of Forest Heath, James Waters, also failed to win a seat on the new authority, and said he felt it was "not personal" but blamed Brexit.
"It was purely a message to Westminster 'you need to get yourself sorted'," he said.
"People are fed up with being messed about."
East Suffolk Council also hosted its first elections since it was formed from the merger of Waveney District Council and Suffolk Coastal District Council.
Mr Bee, the former leader of Waveney as well as the county council, failed to win a seat, but the Conservatives remain dominant on the coast and have 39 out of 55 seats at the new council, which is England's largest district in terms of population.
In Babergh, in south Suffolk, the Conservatives took a big hit losing seven seats and leaving the council with no overall control. The Tories' leader John Ward said he would form a coalition "to represent all views".
The Conservatives also lost seven seats at Mid Suffolk District Council, but held on to power as the largest party assuming the retain the support of the one independent councillor.
One of the Tory councillors won his Stowmarket ward by just one vote.
Either search using your postcode or council name or click around the map to show local results.