Tavis Spencer-Aitkens: Isaac Calver guilty of Ipswich murder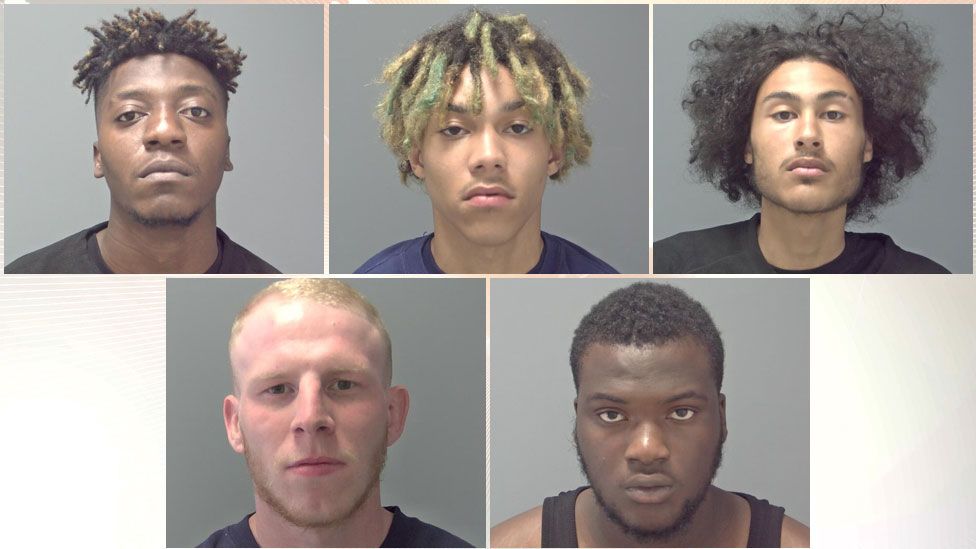 A fourth person has been found guilty of murdering a 17-year-old boy who was stabbed to death in gang-related violence.
Tavis Spencer-Aitkens was stabbed 15 times in Ipswich on 2 June.
Isaac Calver, 19, of St Helen's Street, Ipswich, has now also been convicted by jurors of the same offence following a four-month trial at Ipswich Crown Court.
Sentencing is due to take place on 29 April.
Calver was in tears in the dock after the verdict was read out and there were cries of "yes" and "damn right" from the public gallery.
Tavis's mother Sharon Box was heard to say "son, you will get your justice".
In a statement read by police on the court steps, she said: "Tavis was cruelly and unnecessarily taken from us by uncaring, wicked individuals.
"If it was up to me I would never let them leave prison - never.
"We still think of Tavis as a loving son, brother, grandson, nephew and cousin. He was a good and loyal friend to many.
"We do not want other families to endure what we are having to endure. Carrying knives costs lives."
Neville Aitkens, Tavis's father, said: "Who were these people to judge Tavis? What right had they to take his life?
"We will forever live with our broken hearts, but to know these defendants are off our streets... is welcoming."
On Thursday, verdicts were delivered on the other five defendants in the trial.
Aristote Yenge, 23, of Spring Road in Ipswich; Adebayo Amusa, 20, of Sovereign Road, Barking, east London; and 17-year-old Kyreis Davies, of Turnstile Square, Colchester and formerly of Ipswich, were found guilty of murder.
Callum Plaats, 23, of no fixed address, was found not guilty of murder, but was convicted of manslaughter.
Leon Glasgow, 41, of no fixed address, was cleared of both murder and manslaughter.
During the trial, the jury heard Tavis was killed in revenge for trouble that flared between two rival gangs.
Tavis was friends with a group that called themselves Neno or The Three - after the IP3 postcode of east Ipswich's Nacton estate.
His attackers were from a gang known as J-Block in the west of Suffolk's county town, the court heard.
Prosecutors said the two groups had a heated rivalry and dislike for each other, which they would reference in music videos they posted on YouTube.
The court heard Aristote and Davies had been spotted in the town centre by some of their rivals and hid in cosmetics store Lush, before they were escorted out of the shop by a plain-clothes police officer.
The pair then recruited the others and headed for the Nacton estate later that afternoon.
They attacked Tavis on Packard Avenue as he was walking back from the Queen's Way shops.
Det Ch Insp Mike Brown of Suffolk Police described the killing as "utterly senseless".
He said: "To stab someone 15 times because two members of your group had supposedly suffered a loss of 'respect' by running and hiding from two members of a rival group is beyond comprehension.
"Tavis had no chance of defending himself when set upon by this group in what was a frenzied attack lasting less than a minute.
"However, these verdicts will not return a 17-year-old boy to his heartbroken family and so we must all work to ensure that Tavis' legacy is an end to this violence."
Related Internet Links
The BBC is not responsible for the content of external sites.