'Competent' oil worker crushed by machine on ship off Malaysia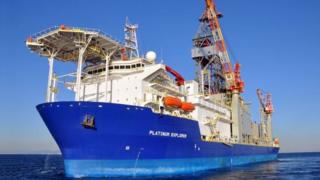 A "highly conscientious and competent" oil and gas worker died from injuries he sustained when he was crushed by machinery on a ship, an inquest heard.
Jeremy Sutch, 46, from Lowestoft, Suffolk, had been working on the Platinum Explorer off the coast of Malaysia when the incident occurred.
A jury heard Mr Sutch died in hospital after a "protracted" evacuation from the drillship on 25 February 2016.
His family claim the "standard of care was not what was expected in the UK".
The inquest in Ipswich heard driller Mr Sutch had worked for Vantage Drilling Company for six years.
At the time of the incident, the ship was not operational and Mr Sutch was part of a small crew maintaining and servicing the machinery.
His colleague and friend Justin Baldry said they had been carrying out tasks as usual before Mr Sutch was injured on the drill floor.
Work not scheduled
Mr Baldry told the court father-of-two Mr Sutch was hit by a piece of equipment known as the riser feeder machine.
He said they had not been scheduled to do any work on that machine that day, and had "functioned" and "oiled and greased" it the week before.
The court heard it was unclear why Mr Sutch had operated the machine, but Mr Baldry told the inquest he was "highly conscientious and competent" and knew the equipment on the vessel "better than most".
A decision was made to take Mr Sutch to the mainland by boat, which involved lowering him via a rig crane and a 30-minute journey before reaching the shore, the jury was told.
Mr Baldry said he was told Mr Sutch was brain dead at the hospital.
His family said in a statement it was a "protracted evacuation" and questioned why a helicopter was not used.
The inquest continues.