Tavis Spencer-Aitkens killing: Gang members seen in van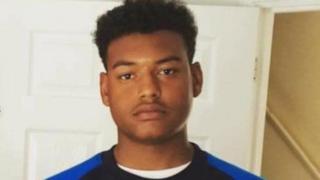 Five men and a 16-year-old boy accused of murdering a teenager were captured on CCTV fleeing the scene of the attack, a court has heard.
Tavis Spencer-Aitkens, 17, was stabbed 15 times and had a bottle smashed over the head in Ipswich on 2 June.
Defendant Callum Plaats, 23, was filmed riding then pushing a bicycle away from Nacton estate and heading across town, Ipswich Crown Court was told.
The other attackers left in a van, prosecutor Oliver Glasgow QC said.
The jury was shown the footage along with maps to show the group's alleged movements on bikes and in a van.
The van was seen near the River Gipping where witnesses in nearby flats reported seeing a "shiny object" thrown in to the water, the prosecutor said.
Police divers later recovered a knife.
It looked like a dark-handled knife or machete and there was "a flash when the blade caught the sun", the court heard.
Tavis was butchered with such a knife, the jury heard.
The rival groups were Neno or The Three, named after the IP3 postcode and the Nacton estate area of Ipswich, and J-Block, named after the Jubilee Park area.
The J-Block gang members were bent on revenge after an earlier altercation in the town centre and headed for Nacton estate where they attacked Tavis, the court has heard.
The van was also seen in Handford Road, on the other side of Ipswich.
An image was captured on a number plate recognition camera showing, it is claimed, defendant Leon Glasgow, 42, at the wheel and Aristote Yenge, 23, both of no fixed address, on a front seat.
In police interviews, Mr Glasgow said he had agreed to drive the van in exchange for drugs but did not know the true purpose of the trip.
He was told to pull up in Packard Avenue and the people in the van and two on bikes rushed at someone in the street.
He did not have a clear view but thought the victim was getting a beating, the court was told.
Mr Plaats, Mr Glasgow, Mr Yenge, Isaac Calver, 19, of Ipswich, Adebayo Amusa, 20, of Barking, east London, and a 16-year-old boy, who cannot be named, all deny murder.
The trial continues.