Mandy Miller inquest: Ipswich woman 'smoked in bed'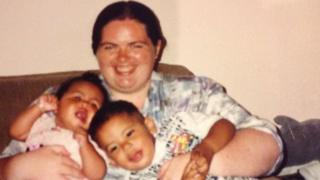 A woman who was found dead after a fire at her bungalow was known to smoke in her bed, an inquest heard.
Mandy Miller, 47, a mother who had multiple sclerosis and limited mobility, lived alone at the council-owned property in Ipswich.
She had already been seen smoking in her bed earlier during the day the blaze broke out on 26 January 2017.
Experts were unable to establish the cause of her death but the fire was described as "foreseeable".
The Suffolk coroner recorded an open conclusion.
Emergency services were called to Reid Close at about 20:30 GMT.
The hearing in Ipswich heard carers had visited Miss Miller at the Ipswich Borough Council-owned home at Reid Close three times that day.
She was seen smoking in her bed on two of those occasions, it was heard.
Mihaela Rosca, one of the carers from Fuschia Homecare, and her husband had gone to see Miss Miller for a fourth time and arrived to find the bungalow on fire.
Mrs Rosca told the inquest she would find burn marks on Miss Miller's sheets and clothing, and advised Miss Miller not to smoke in her bed.
She said she reported her concerns to her supervisor to tell Suffolk County Council.
'Unanswered questions'
The inquest into Mandy Miller's death heard a post-mortem examination was inconclusive.
Consultant pathologist Dr Jason Wong said he found no evidence of smoke in her airways, suggesting she was unconscious before the fire started.
Miss Miller's daughter Kanisha, 23, said there were "so many unanswered questions".
"They don't know how she died and that's the big thing me and family want to know," she said.
Describing her mother as "kind-hearted", "easy-going" and "stubborn", she questioned why no risk assessment was carried out on her.
But said she would not take the case further.
Matthew Finlay, from the council's adult community services, said the authority's social workers were not aware Miss Miller smoked in bed.
Fire safety officer Rob Patterson said all the organisations involved in Miss Miller's care did what they were supposed to but "sharing of information, critically in the mitigation of risk, was absent".
He said a fire at the property was "foreseeable".
The county council said there was a "thorough review" in light of Mrs Miller's death and it has since established a "person-centred risk assessment process".
Suffolk coroner Nigel Parsley recorded Miss Miller's death as "unascertained".
He described her death as "tragic" and said he was satisfied steps had been taken by the authorities to avoid another fire in a home of a vulnerable person.