'Revolutionary' broadband network agreed for Suffolk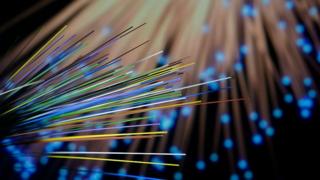 Work on a "revolutionary" fibre cable network designed to transform Suffolk broadband speeds will begin next month.
A £12m project will see 10 towns connected to the network with speeds of "no less than 1GB".
The higher speed link will be open only to public sector organisations, such as councils and the NHS.
Businesses and private users will have to wait another 18 months before they can pay to connect to the network and upgrade slower internet speeds.
Central government contributed £5.9m to the cost with £6m coming from local councils, police, NHS clinical commissioning groups and hospital trusts.
The towns are Bury St Edmunds, Felixstowe, Haverhill, Ipswich, Lowestoft, Newmarket, Mildenhall, Stowmarket, Sudbury and Woodbridge.
Currently, 93% of homes and businesses in Suffolk have superfast broadband, but the new system will be 10 times the current fastest rates offered in the county.
'The next revolution'
A meeting of the Suffolk Public Sector Leaders group, attended by the the Local Democracy Reporting Service, heard the update which said many businesses in those towns would be less than 50 metres from the network.
Leaders were told the project could be worth £40m-£75m in wider benefits over the next 20 years.
Chris Bally, deputy chief executive at Suffolk County Council, said the investment was vital to "underpin future public service delivery".
Buckinghamshire-based MLL Telecom and London firm CityFibre will carry out the work, which is expected to take 15-18 months.
Neil Woolerton, MLL's director of client management, said the network speed of "no less than 1GB" would allow people to work "anywhere, anytime".
"We have had 100 years of copper and now we are moving to the next revolution - this will future-proof for the next 50-100 years," he said.