Orwell Bridge closed for 88 hours over past five years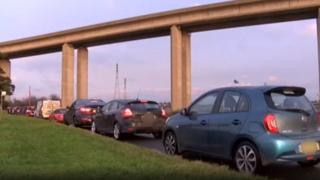 A Freedom of Information Act request has revealed that a bridge carrying the A14 has been closed for at least 88.5 hours in the last five years.
The Orwell Bridge, to the south of Ipswich, was shut on 12 occasions due to high winds, but durations were not available for two closures.
The Ipswich MP reiterated calls for a northern bypass, which would reduce congestion when the bridge shuts.
The closures are made to prevent lorries being blown over.
The lowest wind speed during a closure was 49mph (79km/h).
A Highways England spokesman said: "The wind speeds at which the bridge needs to close have not changed - there have simply been more severe weather events recently."
Local business organisations have pushed for allowing cars to cross while diverting high-sided vehicles from the bridge.
Highways England has previously said that was not viable as surrounding roads were not suitable for filtering lorries in that way.
Ipswich's Labour MP Sandy Martin said filtering traffic would not solve the problem.
"The A14 was built for freight and to avoid heavy lorries going through Ipswich town centre," he said.
"The sensible answer is an alternative route and that means a northern road to bypass Ipswich.
"It's not just weather that shuts the bridge - accidents, maintenance operations and people taking their own lives also contribute to closures."
Orwell Bridge closures
27 Oct 2013: 9hrs 01mins
23 Dec 2013: 6hrs 28mins
26 Dec 2013: 9hrs 01mins
14 Feb 2014: 11hrs 21mins
27 Mar 2016: 6hrs 21mins
22-23 Nov 2016: Information not held
23 Feb 2017: 10hrs 28mins
22-23 Nov 2017: 7hrs 15mins
2-3 Jan 2018: 16hrs 28mins
18 Jan 2018: Information not held
23 Jan 2018: 4hrs 21mins
29 Apl 2018: 7hrs 50mins
Source: Highways England
Conservative-run Suffolk County Council said the case for a "northern relief road" was being made to government but it was at the "preliminary planning phase" and an accurate estimate for what would be a multi-million pound scheme could not be made yet.
The council's plans for a new Upper Orwell Crossing over the water to the south of the town centre have been put in jeopardy after the estimated cost rose from £97m to £139m.
Paul Simon, spokesman for the Suffolk Chamber of Commerce, said: "Even without Orwell Bridge closures, Suffolk Chamber believes the flow of people through and around our increasingly successful and busy county town necessitates an integrated solution for drivers, cyclists and pedestrians alike.
"That is why we supported the Upper Orwell Crossings and are very much in favour of a northern route."