Roof replaced after Elmswell's St John's church lead theft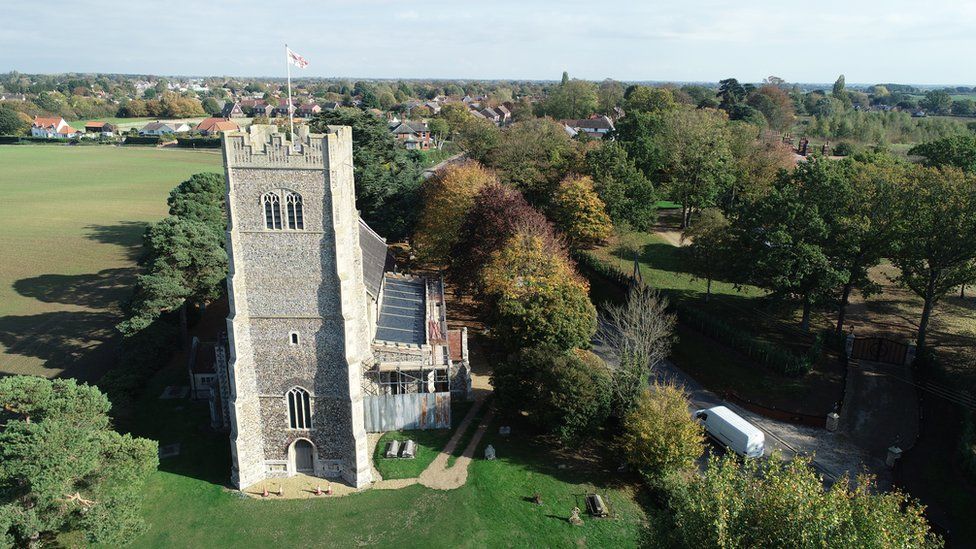 A church roof that was stripped of lead by thieves on Armistice Day last year has been replaced.
The theft at St John's, Elmswell, Suffolk, on 11 November 2017 left the roof leaking.
The church fully reopened in July after repairs to the ceiling were completed. Work to install a stainless steel roof has now finished.
The Reverend Peter Goodridge said: "I am delighted. It's nicely watertight again."
"Everybody in the community has been great," he added.
The repairs to the roof and rain-damaged interior have cost about £40,000, and were paid for by insurance.
Mr Goodridge said Historic England had not opposed the use of stainless steel for the roof, which was less valuable than traditional lead.
The theft meant rain entered the church and accelerated damage to the chancel ceiling, with plaster falling down on to pews.
Shortly after the theft, Mr Goodridge said he could see "daylight through the roof".
External masonry was also damaged but no-one was injured.
Related Internet Links
The BBC is not responsible for the content of external sites.