Suffolk pothole payouts double in 2018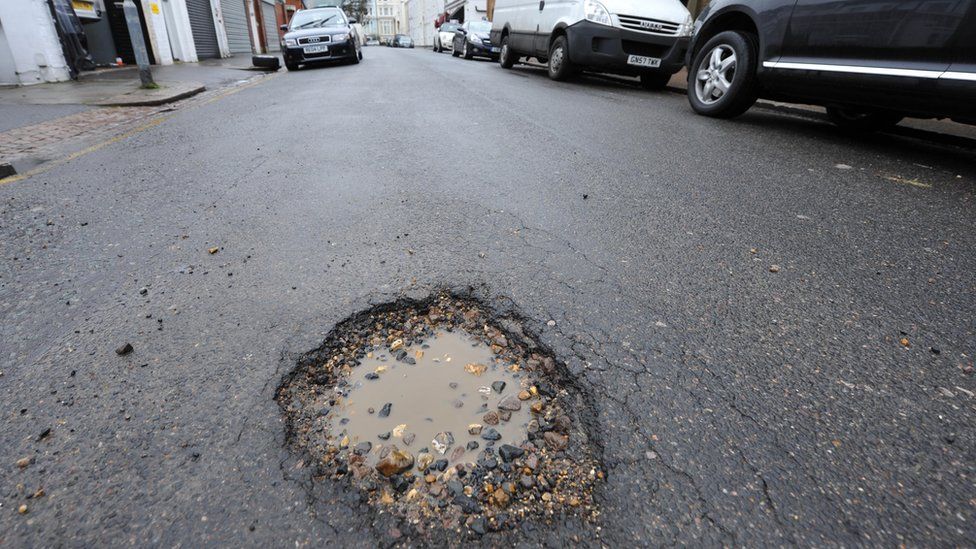 The cost to the public purse of insurance payouts for damage caused by potholes in Suffolk has already more than doubled in the last year.
The county council paid out £67,819.07 from January to October 2018 compared to £26,004.63 for the whole of 2017.
Claims also doubled from 598 in 2017 to 1,265 so far in 2018 with 192 claims still waiting to be resolved.
A Suffolk Highways spokesman said the harsh sustained winter earlier this year had taken its toll.
"Roads are constantly deteriorating through general wear and tear and the detrimental impacts of winter weather," he said.
The highways team said it had had a purge on the county's roads during the spring and carried out many temporary repairs.
The figures were published by the Local Democracy Reporting Service after a Freedom of Information request.
Jack Owen, the Labour opposition's highways spokesman at the council, said the repairs were "too little, too late" and were an "avoidable cost" for taxpayers.
"The figures come as no great surprise, the Labour group have been warning about the consequence of not fixing pot holes for years," he said.
In June, Mary Evans, Conservative cabinet member for highways, began a review of the department, including the repair of potholes.
A new pilot scheme started in Ipswich last month which aims to repair potholes immediately and cut the number of temporary fixes used.
The point at which action can be taken on potholes has also changed - with work starting on holes of 200mm (8in) diameter rather than 400mm (16in).
The trial is due to run until April and, if successful, could be extended.
Related Internet Links
The BBC is not responsible for the content of external sites.