Seawall lowered to protect Havergate Island in Suffolk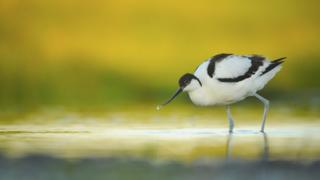 A seawall is being lowered in a bid to protect a nature reserve from storm surges resulting from climate change.
The RSPB project at Havergate Island, on the Suffolk coast, and will see a 2,132ft (650m) section of the defence reduced by 17.7in (450mm) to allow the sea to flow into lagoons in a controlled way during high tides.
The reserve is important for nesting birds including avocets and terns.
Increased storm surges have damaged the seawall and washed away shingle banks.
The RSPB said the increasing frequency of such high tides was down to climate change.
The material taken from the seawall will be used to create a gently sloping bank inside the wall down to the lagoon, which will be sown with native coastal grass.
Aaron Howe, RSPB sites manager, said: "Decreasing the height of the seawall may seem like a counter-intuitive way to protect Havergate Island's wildlife from the sea, but doing allows us to direct the water into the island's lagoons when there is a tidal surge before it reaches the point of overwhelming the seawall.
"This also has the effect of relieving some of the pressure on other seawalls in the estuary during these extremely high tides."
---
Havergate Island
Havergate Island has been an RSPB nature reserve since 1949 after avocets were found breeding there in 1947, having previously been extinct as breeding birds in the UK for more than a century. The wading bird is featured on the RSPB logo
The island lies in the River Ore estuary between the mainland and the Orford Ness vegetated shingle spit
The RSPB runs limited boat trips to the island from the town of Orford
It covers 108 hectares, of which 60 hectares is saline lagoon, 40 hectares saltmarsh and four hectares of vegetated shingle
The island is home to the rare yellow-striped bear spider, starlet sea anemone and a wealth of rare coastal plants, such as smooth yellow vetch
---