'Rogue' firework hits people in crowd at Sudbury display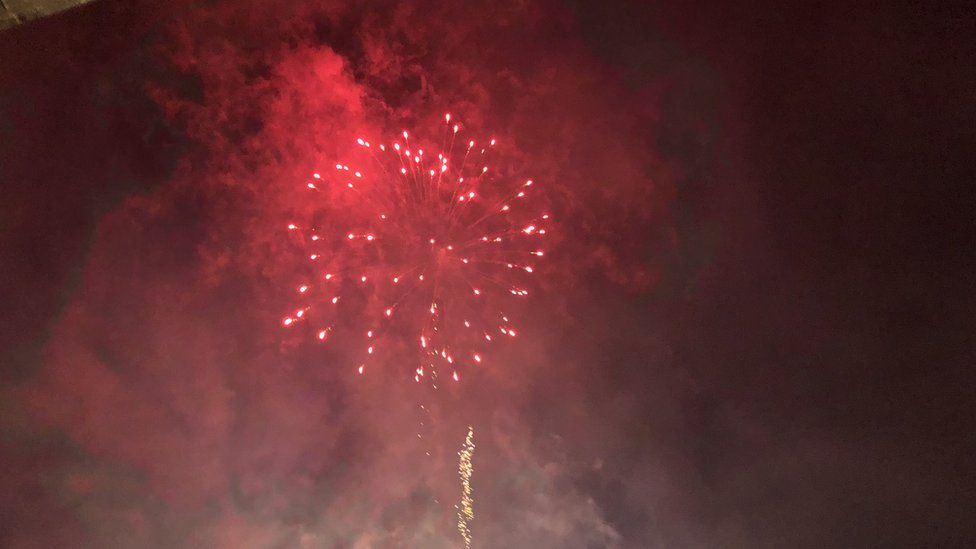 A "rogue" firework strayed off course into the crowd at a town's free display.
The event, organised by the town council, was held at the Delphi Centre in Sudbury, Suffolk, on Sunday.
One person who went said on Facebook there was "fire raining down" and it was "terrifying", while the town council said it understood a woman received grazing to her forehead.
The town council said it was "very sorry" and will be investigating.
Town clerk Jacqui Howells said the fireworks had been bought from a "reputable firm that provide fireworks for outside events" and they followed the manufacturer's guidelines for the distance of the fireworks from the crowd.
The fireworks were being lit by fire officers from Delphi - the town's engineering firm which runs the leisure centre.
Ms Howells said the display had "started well", but the fire officers noticed a couple of them were "faulty".
She said staff and paramedics were standing on the balcony, overseeing the display, and it "immediately became obvious a stray firework had gone into the crowd".
She said paramedics were immediately on the scene and the display was halted to address safety concerns.
Mrs Howells said: "One person got slight grazing to her forehead, we're obviously very, very sorry and hope that everything is fine. But as far as I'm aware, nothing major happened."
She said they had only been notified of one person who had been hit by what she described as the "rogue" firework, but urged anyone else who was injured to get in touch.
"We've been doing this display for well over 15 or 20 years and we've never had any incidents up until now," she said.
"We will look at the safety issues and will be contacting the manufacturers because if they were faulty fireworks we need to do something about that."
Related Internet Links
The BBC is not responsible for the content of external sites.