Burglars target stores in Shotley, Great Blakenham, Reydon and Grundisburgh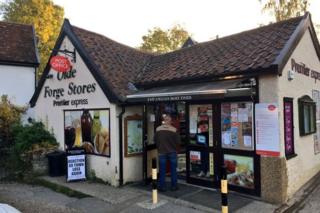 Police are linking four night-time burglaries at village stores in rural areas of Suffolk.
The first break-in happened at Barbrook Stores in Reydon, near Southwold, at about 12:20 BST. Shotley Post Office was hit an hour later and then Blakenham Stores at Great Blakenham.
Olde Forge Stores in Grundisburgh was burgled at about 04:30.
Suffolk Police said entry was forced into the buildings, and cigarettes and alcohol were stolen in all the raids.
At Grundisburgh, customers are being served at the door and are not allowed into the store while a police investigation takes place.
Mihaela Gray, the store's manager, said she felt "very angry".
"I thought this was a very secure village," she said.