Karen Hales murder: 1993 killing 'deprived baby of grandmother'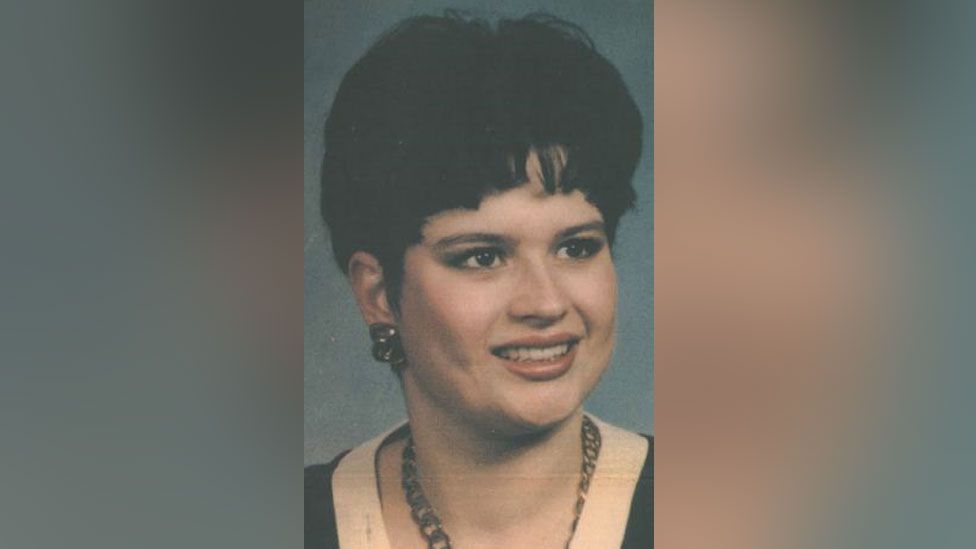 A woman whose mother was killed in front of her when she was a toddler has said how sad she is that her baby son will grow up without his grandmother.
Emily Hales was just 18 months old when her mother Karen was murdered at their home in Ipswich 25 years ago.
Karen, 21, was stabbed multiple times and her body set on fire on 21 November 1993. Her killer has never been found.
Miss Hales was saved from the fire by her grandparents. She said she still thought of her mum every day.
Now 26, she said having a baby of her own had been "really difficult" without her mum by her side.
She said: "I think of the things we would do together, you know, just normal life and she's missing out on Tommy.
"He's lovely, he's nine-and-a-half months and turning into a right little character."
Miss Hales said it would "mean everything to us" to know who killed her mother and why.
"There must be someone who knows something and if you do know anything, then please tell the police," she said.
Karen Hales's mother Geraldine said Tommy, who would have been her daughter's first grandchild, was a "gorgeous little boy", and "this evil person took that away from her".
On the day she was killed, Karen Hales was alone with daughter Emily at home in Lavenham Road.
Her fiance Peter Ruffles, Emily's father, had left at 15:50 GMT to go to work.
Shortly before 16:40, her parents, Graham and Geraldine Hales, called in at the house and entered through the unlocked front door.
They were confronted with smoke and flames and found their daughter had been stabbed and an attempt made to set her alight.
'End the torment and suffering'
Renewing its appeal for information 25 years on from Karen Hales's murder, Suffolk Police said it "was not giving up" searching for her killer.
Det Supt Andy Smith said it was one of the biggest murder investigations the force had ever launched, with 50 officers involved at the time.
He said they had thousands of lines of inquiries, hundreds of witnesses spoken to and more than 300 items seized.
Det Supt Smith said it was "not through a lack of trying" the killer had not yet been caught.
He said it was "immensely disappointing" knowing they had not brought the murderer or murderers to justice.
"Words fail me as to how despicable this crime was, it's certainly one of the worst crimes I've experienced in my 25 years," he said.
He said he thought it was a targeted attack and urged the person responsible to come forward and "end the torment and suffering" caused to the Hales family.
On the day Ms Hales was murdered there was at least two inches of snow on the ground.
Police found her purse was missing, as were two Laser knives.
Mr and Mrs Hales, who have been married for 54 years, said they still desperately wanted to know what happened to their daughter, who they described as "bubbly" and "full of life".
Mr Hales, 72, said: "It's hard to live with it. You never forget, I go over and over in my mind, it's hard to talk about it."
His wife, with whom he has two other daughters, Jacqui and Angie, added: "Whoever it was is out there living a life, 25 years, and they've deprived Karen of her life.
"They're still out there somewhere enjoying their life."
Related Internet Links
The BBC is not responsible for the content of external sites.