Universal Wealth Management: More than 100 possible frauds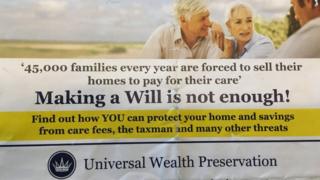 More than 100 reports of possible fraudulent activity have been received by the team investigating a collapsed investment firm, it has emerged.
Universal Wealth Management ran seminars called Keep It In The Family, in which they promised to protect people's assets from inheritance tax.
The Ipswich-based firm also promised to help its clients avoid care home fees.
The Eastern Region Specialist Operations Unit (ERSOU) has taken on the investigation from Suffolk Police.
Two people connected to the firm had been arrested and released as inquiries continue.
The BBC has spoken to a number of people who appear to have lost significant amounts of cash.
ERSOU has taken on the investigation from police because of "its scale" it said in a statement.
It added "ERSOU are now in the process of examining the contents of hundreds of boxes of files that have been seized by police."
Complex inquiry
Det Insp Rob Turner, leading the investigation, said: "Investigations of this type are very complex and by their nature are likely to be long-running.
"I understand the concerns of those who have had dealings with this company and I'd like to reassure people that we are taking this matter seriously."
Anyone with information or who wishes to report a concern is asked to contact Action Fraud.
The company has yet to comment. Its offices in White House Road, Ipswich, are empty and 100 staff have lost their jobs.
The investigation will be broadcast on BBC Inside Out East on BBC One on Monday at 19:30 BST.