Greater Anglia rail staff take lost property fee from purse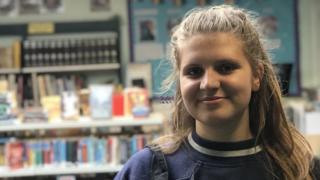 A rail company is "reviewing" its lost property policy after staff took 10% of the cash that was in a woman's purse as a "storage fee".
Florence Lewis, 18, left her purse on a Greater Anglia train travelling from Ipswich to Lowestoft on 2 October.
When the student went to collect it a week later, she was shocked to find £1.50 had been taken by staff.
Greater Anglia said its storage fee was either a "minimum of £2.00 or 10% of what is in the purse".
Miss Lewis said she was left "confused" by the incident.
"I was aware there was a storage charge for lost property, but I didn't know it was a percentage of cash in a purse," she said.
Cash deducted
"It's not published anywhere on their website that this is how they do it."
The company's website states customers will be charged if an item is not collected within 24 hours, but it does not make reference to a percentage of cash being deducted from purses or wallets.
However, the rail company said its storage fee "will either be a minimum of £2.00 dependent of the item or 10% of what is in the purse or wallet."
It said staff removed £15 from Miss Lewis's purse to "ensure" the money was protected, and then handed her £13.50 back when she collected her purse.
Last month, Arriva Trains Wales said it was changing its policy and would no longer take 10% of cash from customers' belongings after it received a backlash online.
'Different charge'
Adam Howells raised the issue after he was charged £6.80 commission and a £2 administration fee for the return of a wallet he left on an Arriva Wales train.
"It's odd there's a different charge if you have more money. A wallet with £2 inside and a wallet with £100 go through the same process," he said.
Greater Anglia customers can be charged up to £1 per day for the storage of lost property.
There are also fees for the return of items, ranging from £20 for laptops to £2 for umbrellas.
A spokeswoman for Greater Anglia said: "We are currently reviewing our lost property policy to ensure that it is consistently applied by staff and offers clear information to customers about the charges we make for safe storage.
"We are sorry that this customer was unhappy with the service on this occasion. Our customer relations team is in contact with her and are taking steps to redress the situation."