Ipswich's Upper Orwell Crossing to cost additional £43m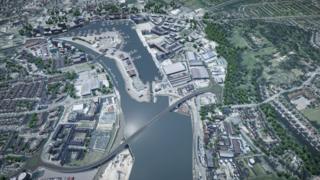 An additional £43m is needed to fund a new river crossing comprising three bridges, a council has revealed.
It was initially predicted the Upper Orwell Crossing in Ipswich would cost just under £97m, and £77m was secured from the government.
An independent review has found the cost of the three bridges would be closer to £139m.
Suffolk County Council said it would do "everything it can" to find the extra cash for the project.
Leader Matthew Hicks said the Conservative-run council would be talking to all "significant bodies".
These included the Department for Transport, New Anglia Local Enterprise Partnership (LEP), Suffolk Chamber of Commerce, Ipswich Borough Council, the port and "anyone we can think of", he said.
"I want to deliver these bridges for Ipswich," said Mr Hicks.
He said they were "really important" for the town and county, with the potential to "unlock significant growth" and "relieve some traffic pressures".
Mr Hicks said the council commissioned consultants Jacobs to undertake the review "for clarity".
He said the council did not have "significant reserves" to help plug the gap and, as reported, it anticipates an £8.6m overspend by the end of the year.
Under the plans, there would be a major road bridge from Wherstead Road on the west bank of the Orwell to Cliff Quay on the east side of the river.
There would also be a smaller bridge across the New Cut from near Felaw Maltings to the Island Site.
A new pedestrian and cycle access would be created across the Wet Dock lock gates.
The newly-published report suggests alternative strategies, including to change the layout of the bridges to bring down costs.
But Mr Hicks said the council would do "everything we can to knock on doors" to try to find the £43m first.
He said a decision would be made by December.