Suffolk County Council 'won't be next Northamptonshire'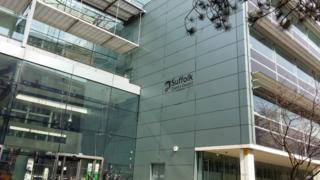 Cutbacks of £25m are set to be made in Suffolk County Council's budget next year, finance chiefs have warned.
A report said the council was looking at an £8.6m overspend by the end of the year, based on finance figures for the first three months of this year.
At a scrutiny meeting, Richard Smith, cabinet member for finance, said the council was "not going to be the next Northamptonshire".
His comment referred to that county council's ongoing cash crisis.
Northamptonshire has had to make radical cuts to jobs and services in a bid to fill to a £70m shortfall.
Mr Smith said at Thursday's meeting: "Other county councils are in a far worse state than we are, but if we don't keep a firm grip on finances our savings will diminish and it is possible within four to six years we could be in a Northamptonshire situation.
"I am confident we won't be there."
The Local Democracy Reporting Service (LDRS) said it was not clear by how much Suffolk County Council would be able to reduce its overspend.
But any spend over budget will have to come from the council's reserves, which currently stand at £51.1m, it said.
Conservative councillor Mr Smith said no area would be immune from cutbacks, with all areas understood to be over budget.
Labour group leader Sarah Adams said the "economically illiterate decisions made by this council in the last five years are now coming home to roost".
Andrew Stringer, leader of the Liberal Democrat, Green and Independent group, said another £25m of cuts "could be devastating" and "will put our most vulnerable residents at risk".