Kevin Beattie: Tributes to 'complete footballer'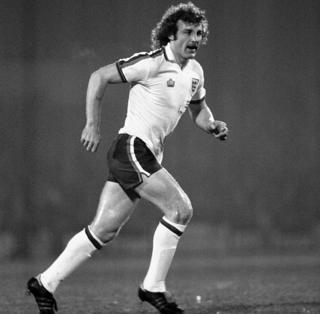 Former team-mates and opponents have been paying tribute to ex-Ipswich and England defender Kevin Beattie, who has died from a suspected heart attack.
Former England captain Terry Butcher said he was "devastated" by the death of the 64-year-old.
"He was my hero and my inspiration," Butcher said. "You try to model yourself on him but it was impossible - he was the complete footballer."
George Burley, who won the FA Cup with Beattie, said he was "a legend".
Beattie was born in Carlisle and moved to Ipswich when he was 15, going on to make 296 starts for the club, scoring 32 goals. He was a PFA Young Player of the Year, represented England nine times and also won the Uefa Cup under Sir Bobby Robson.
He is widely considered by fans and former players of Ipswich to be the club's best-ever player.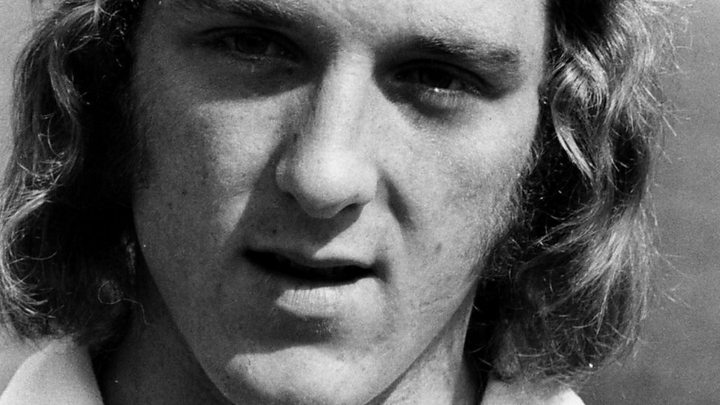 Sir Bobby, who died in 2009, said Beattie was the "best defensive player that this country has produced".
In his autobiography, Sir Bobby said he signed Beattie after scout Ron Gray described him as a "colossus" with a "neck like a bull".
Butcher said he first watched Beattie as a fan and idolised him throughout his career.
"I used to watch him from the terraces and marvel at his strength and ability," Butcher told BBC Radio Suffolk.
"He used to hurt people by simple tackles but he wasn't vicious, he was one of the loveliest men you'd meet on the pitch as well - he was a gentleman. But he was strong and wanted to win."
Beattie's career was hampered by injuries and it was all but over when he left Ipswich at the age of 28.
"He put his body on the line, and in the end his injuries helped other people, myself included, get in the team," Butcher said. "But you didn't want to get in the team because I just used to love watching him play.
"He had spring-like legs. His spring and timing was immaculate. When he went up to head the ball, nobody else was going to win it.
"When he used to shoot with his left foot it was like an Exocet."
George Burley said Beattie's athleticism and determination to win meant "nobody could play against him".
"He was quicker than anybody, stronger; he was fantastic in the air, he had a left foot that was like a sledgehammer - he virtually scored from the halfway line in one game," Burley said.
"And as a fella, Kev was one of these lads where if anyone was struggling, he'd come help you. If somebody needed £2 for a taxi, 'I'll give you it', anything like that.
"If anybody wanted something they'd go to Kevin, and Kevin took it all on himself and really enjoyed doing that. He was that type of lad."
You may also be interested in:
Allan Hunter, whose partnership with Beattie earned them the nicknames "Bacon and Eggs" from Sir Bobby, said his former team-mate was a "fantastic fella and a fantastic player".
"He was the greatest thing I ever played with, and that includes George Best," the former Northern Ireland international said.
Mick Mills, who captained the FA Cup and Uefa Cup-winning sides, said Beattie's death was a "desperately sad moment".
"There's no doubt we've lost our best player," Mills said. "The team was littered with good players, but I think everyone would say he was our best one.
"Not only was he a great player, if you wanted someone who was absolutely perfect for the dressing room, Kevin Beattie was your man. He was a laugh-a-minute and if there was any tomfoolery going on, he was part of it."
Roger Osborne, who scored the only goal in the FA Cup final against Arsenal, said it had been an "honour" to share the pitch with Beattie.
"Beat was quite annoying, really, because everything came so easy for him," Osborne said. "Us poorer players had to train really hard and work to keep our fitness. Beat used to stroll in and took it all for granted.
"He was just stronger, fitter and better than anyone else. He didn't have to try."
'He was a joy to watch'
Veteran journalist Stuart Jarrold saw virtually every game Beattie played for Ipswich, and interviewed him many times, getting to know him well.
"He was a wonderful player - probably the best player ever to play for Ipswich Town," he said.
"He was a joy to watch in his pomp. Strong in the air, strong on the ground, strong in the tackle - he could run and beat players over 50 yards, and then shoot and break the back of the net from 30 yards. He'd leap in the air and his forehead would be level with the crossbar.
"Off the field, he was such an affable bloke. He never made any money out of football. He was the salt of the earth - he came from nothing as this 15-year-old kid."
Jarrold believes that had Beattie not been forced out of the game through injury, he would have gone on to win many more England caps, and that he has no equivalent in modern football.
"The game has changed. He was a colossus. There's no-one else like him," he said.
"What would he be worth in today's transfer market? As Bobby Robson said, he was priceless."
John Wark, part of the FA Cup and Uefa Cup-winning sides, said Beattie, lovingly called "Monster" by his team-mates, was "the best-ever" player for Ipswich.
"We had a lot of other great players but Beat was the one they couldn't get by in the European games," he said. "His downfall was his injuries."
Former opponents and more recent players also paid tribute to Beattie, with ex-Manchester United, England and Millwall winger Gordon Hill calling him "a true gentleman and fantastic centre-half".
And ex-Ipswich captain and Republic of Ireland midfielder Matt Holland called him "one of the greatest" Town players of all time.
Beattie was loved by fans and fellow professionals for his personality as much as his playing ability, with many of his team-mates describing him as a joker. Other stories paint him as a slightly hapless character, with Sir Bobby saying "trouble seemed to find him easily".
In his autobiography, Sir Bobby recalled how Beattie once threw a can of petrol on a bonfire that had failed to light. From his hospital bed, Beattie told his manager he was "all right" and that he would be able to play the following day, but it turned out he was absent for the next five months.
"He was blessed and cursed at the same time," Sir Bobby wrote. "Blessed with talent and cursed by bad luck."
Caps, cups and car crashes
Kevin Beattie's 1998 autobiography, The Beat, is full of tales of what John Motson refers to in the book's foreword as the "madcap side" of his character.
Anecdotes include getting his foot stuck in a hotel shoe cleaner on the eve of the FA Cup final, being duped into appearing in a photo shoot with "Spain's biggest porn star" and being locked up overnight in a Bermuda prison for fears he was too drunk and would get in trouble.
He describes two car crashes. In one, team-mate Robin Turner wrote off his car by hitting a lamp-post as Beattie decided to take off his knee bandage and put it over his face "for a laugh".
In the other, in 1974, Beattie flipped his car on to its roof as he tried to overtake team-mate Brian Talbot's Ford Capri in a race to the training ground. Miraculously, only one of Beattie's three passengers received a minor injury.
Beattie writes fondly of his role as Michael Caine's double in the movie Escape to Victory, and is thrilled to recall how he won $100 from the "arrogant" Sylvester Stallone by beating him at arm-wrestling.
Beattie, one of nine children and father to three daughters, talks of his humble background and how, throughout his life, he put family first. He writes that he dreams of taking his grandchildren to Disneyland in Florida, and of spending "a couple of pounds" a week on the National Lottery in the hope of getting lucky.
Plenty is written about the thrill of winning the FA Cup, but there's equal excitement as Beattie recalls how he and other players were able to "make a killing" by selling surplus Wembley tickets.
For all his successes, the sense that Beattie could have achieved more is never far away.
"Had I been able to keep fit, I reckon I would have played over 100 times for my country and joined an elite group of players," he writes.
"I bet I am not the only footballer who struggles. OK, it is great to be fit and healthy when you are young, but when you have to suffer when you finish, no-one tells you about that side of football.
"Mind you, I would still do the same again if I had the chance all over again."
Beattie broke his arm in what proved to be his last match for Ipswich, a 1-0 defeat to Manchester City in the semi-final of the FA Cup in 1981.
He had short spells with Middlesbrough and Colchester after leaving Ipswich, but returned to the town to live after retiring. He led a modest life, caring for his wife Maggie, who has multiple sclerosis, in a council-owned bungalow.
In 2012, speaking shortly after he admitted falsely claiming benefits, Beattie said more could be done to help former players who had fallen on hard times.
He also reflected on whether injections to help him recover quickly from injuries had shortened his career.
"Football is the love of my life," he said. "I've let myself down in a way, saying yes to injections and stuff like that. But I've got my memories and you can't take that away."
Mark Murphy's Breakfast show on BBC Radio Suffolk was dedicated to Kevin Beattie and featured tributes from several former team-mates as well as fans. You can listen again via the iPlayer.