Felixstowe homeowners want £100K pay out over café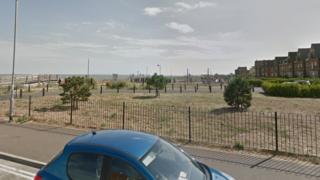 Homeowners in a Suffolk seaside town have threatened legal action if plans for a beachside café go ahead.
The Suffolk Coastal Council-run café and restaurant could form part of Martello Park in Felixstowe.
Objectors claim the café would "blight" new-build homes, with council papers stating residents would seek £100,000 compensation "to reflect the devaluation".
The council is expected to approve the plan when it meets on Thursday.
The café was described by planning officers as an "iconic building" which would create a focal point to the south of the resort and boost jobs and tourism.
It is also near a site of 127 new-build homes.
Fifteen letters of objection have claimed an "adverse mental health impact on residents", that the café is too big and would "bring more litter, vandalism, anti-social behaviour and vermin".
'Café clearly identified'
Agenda papers also state: "Will seek legal action if approved in the region of £100k per property as compensation to reflect the devaluation of properties."
A planning officer's report states: "Whilst noting that impact on a property value is not a material planning consideration, officers do not believe that it is an accurate statement that such a facility could not have been envisaged when purchasing a property.
"The area reserved for a café was clearly identified on the approved plans submitted by Bloor Homes."
The report conceded that the sea view may be obscured from some windows of one property.