Third Lake Lothing bridge work 'could begin in 2019'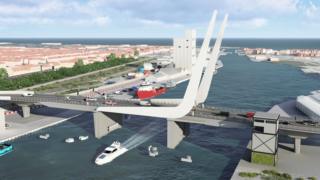 Work to build a third bridge over Lake Lothing in Lowestoft could get under way as soon as next year, according to a new council report.
The report to Suffolk County Council said the £94m scheme could begin in 2019 or 2020 if there were no delays.
The lake is set to close to marine traffic for three weeks while the bridge installation takes place.
Associated British Ports (ABP), which runs the Port of Lowestoft, said it had "concerns" about the crossing.
The report, presented to the council's development and regulation committee on Tuesday, said: "During the construction of the scheme, it will be necessary to close Lake Lothing to all marine vessels for a period likely to be three weeks whilst the bridge is being positioned.
"This will constitute a slight adverse but not a significant effect upon the operations of ABP.
"During this time, no vessel will be able to navigate through the area of the bridge, although the eastern inner harbour will remain operational."
A spokeswoman from ABP said the Port of Lowestoft played "a vital role" in the UK economy and an agreement to "safeguard the future of the port" was "still to be reached" with the council.
She added: "ABP has long voiced concerns about the construction of a bridge that crosses the centre of the port arising from the permanent impact on port operations as well as the marine safety implications.
"ABP has and will continue to approach discussions with the council positively and constructively. However, this is a complex process."
The county council and Waveney District Council will submit responses to a Planning Inspectorate consultation, as part of the planning process.
The project requires a Development Consent Order from the Secretary of State in order to progress.