Ava-May Littleboy: Stolen iPad contained photos of trampoline victim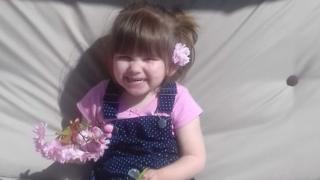 Thieves have stolen an iPad containing photos of a girl who died when an inflatable trampoline burst.
Ava-May Littleboy, three, from Somersham, was thrown from the inflatable at Gorleston in Norfolk on 1 July. She died in hospital.
The iPad was stolen from her grandmother's car last week.
Her mother Chloe Littleboy said she hoped whoever had taken it would "realise the little girl is no longer here" and return the iPad to them.
"The iPad has got pictures of my young daughter that none of us have on our phones," she added.
Ava-May was at Gorleston beach with her family when witnesses described the inflatable "exploding".
She was thrown from the trampoline and suffered a head injury.
A man and a woman in their 40s, from Great Yarmouth, were arrested in July on suspicion of gross negligence manslaughter in relation to Ava-May's death and released under investigation.
Speaking of the theft, her mother added: "On the home screen is a picture of my daughter.
"I hope they see the pictures and realise the little girl is no longer here and the family want that iPad back.
"Even if they just drop it on the doorstep - nothing will be done, we just want it back."
Ms Littleboy said the white iPad had a crack in the bottom left corner and a creamy-white case.
Suffolk Police said the theft happened in Somersham between 15:00 BST on Tuesday and 09:30 BST on Wednesday.
Ms Littleboy's car was also broken into.