Lecturer Julian Myerscough guilty over indecent images arrested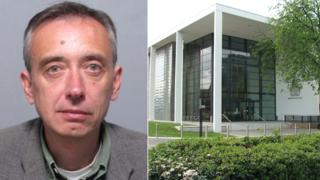 A former law lecturer who fled court shortly before being convicted of having indecent images of children has been arrested in Romania.
Julian Myerscough, 56, formerly from Lowestoft in Suffolk, was found guilty in his absence of 16 counts in October 2015.
He was arrested shortly afterwards in Ireland, but won an appeal against his extradition in 2017.
But on 6 August, a Romanian court agreed to extradite him.
The former University of East Anglia law lecturer, who was originally from Bolton, was arrested in Arad County, Romania on Friday 27 July under a European Arrest Warrant.
Officers will now travel Bucharest to return him to the UK.
Myerscough fled Ipswich Crown Court on 30 September 2015 during a recess while the jury was considering its verdict.
In his absence, he was found guilty of 13 counts of possession of indecent images of a child and three counts of breaching a sexual offences prevention order.
Then in September 2017, he was sentenced at Chelmsford Crown Court again in absentia, to three years and six months in prison.
Suffolk Police had secured an arrest warrant after they realised Myserscough was en-route to Ireland.
Garda officers arrested him on 2 October 2015, but in August 2017 he won an appeal against extradition.
Myerscough had previously been given the sexual offences prevention order when was jailed for 15 months in 2010 on similar offences.