Broomhill lido: Ipswich project faces funding shortfall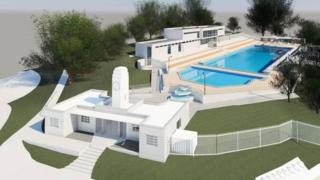 A multimillion-pound project to restore a Grade II listed lido is facing a shortfall of £750,000 after construction costs rose.
The restoration scheme for Broomhill Pool in Ipswich secured £6.5m towards the project at the end of last year, including a £3.4m lottery grant.
But the firm behind the project, Fusion Lifestyle, has said the cost had increased to £7.25m.
Fusion said it was still "committed" to the project.
Hosting 2,000 daily visitors in its 1930s heyday, the Broomhill Pool in Ipswich has been closed since 2002.
After more than 18,000 signed a petition backing its reopening, in December last year the Heritage Lottery Fund agreed to give a grant towards its restoration.
The director of business development at Fusion Lifestyle, Tim Mills, said there has been an increase in construction costs.
"This is the latest bump in a pretty bumpy road but we are still confident we can make the project happen," he said.
"We are still utterly committed but this is another challenge we are facing."
Mike Cook, vice chairman of the Broomhill Pool Trust, said the funding shortfall will not derail the project.
"We have had a lot of setbacks but I am confident we will get there in the end," he said.
"There are other major funders available who may help to bridge the gap. I wouldn't like to name them at the moment."
A lido revival?