Ex-UKIP councillor Stephen Searle guilty of murdering wife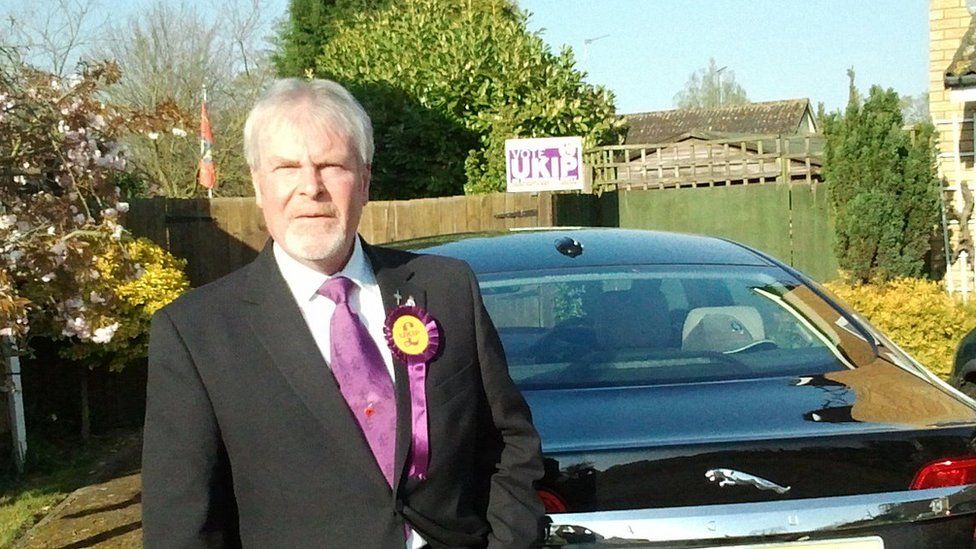 A former UKIP councillor has been found guilty of murdering his wife, after he had an affair with their son's partner.
Stephen Searle, 64, strangled his wife Anne at their home in Stowmarket, Suffolk, on 30 December.
The ex-Royal Marine had denied killing Mrs Searle, 62, after she found out about the affair with Anastasia Pomiateeva.
He was found guilty by a jury at Ipswich Crown Court and will be sentenced on Wednesday.
Judge Mr Justice Green said Searle's "act of infidelity in one way or another led to this".
It took the jury three-and-a-half hours to find him guilty of murder, after a six-day trial.
Searle had previously told a jury his wife had uncovered his affair with Ms Pomiateeva, who is the mother to at least one of their grandchildren, months before she died.
He claimed that on the day of her death, his wife of 45 years had attacked him with a knife following an argument and was killed in the struggle that ensued.
He had told the court he did not intend to murder her, failed to call an ambulance after the attack and instead "sat there like a bloody idiot".
But in a 999 call that was played to jurors, Searle could be heard telling police: "I've just killed my wife."
Prosecutor Andrew Jackson said Searle had probably placed his wife in a choke hold he had knowledge of from his military training following "yet another row".
He also told the court that the discovery of the affair "would have put considerable strain on the marriage".
A post-mortem examination recorded that Mrs Searle died of compression of the neck.
Forensic pathologist Dr Benjamin Swift said she would have lost consciousness after about eight to 15 seconds of pressure to the neck, and death required further sustained pressure for a period of minutes.
Days before her death, Mrs Searle had posted a message on Facebook saying: "Happy Christmas... I hope I will still be here in 2018. We will see."
In a victim impact statement, one of Searle's sons, also called Stephen, said: "Not only have I lost my mum, but because of what he's done I've lost my dad too."
Det Ch Supt Eamonn Bridger said: "Anne Searle's death was a tragic crime and our sympathies remain with her family and friends."
Following the verdict, former politician Bill Mountford told BBC Suffolk he still considered Searle "a friend", adding "these things happen".
Mr Mountford, who was leader of UKIP at Suffolk County Council when Searle was a councillor, said: "I still regard Steve as fundamentally a decent man who has found himself in circumstances beyond his control.
"I'm not condoning it in any way but I was very, very sad to hear of Steve's conviction.
"I'm well aware domestic disputes can get out of hand but I feel equally sorry for both Steve and his now deceased wife."
Related Internet Links
The BBC is not responsible for the content of external sites.