Thomas Gainsborough: Centre gets £4.5m lottery funding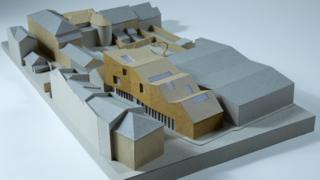 A world-renowned artist will be celebrated in a new national centre for his work, after £4.5m National Lottery funding was awarded.
A Grade I listed house in Sudbury, Suffolk, where 18th Century artist Thomas Gainsborough lived, will now be extended and renovated.
Works from Gainsborough, known for his portraits of notable people, will be celebrated at the museum.
Its director said it will become "a regional hub for heritage and culture".
The plans are to redevelop a former labour exchange building at the rear of Gainsborough's House, an existing museum in the artist's former home.
About 90 jobs will be created by the development, including five two-year apprenticeships, the centre's management say.
Gainsborough, the son of a merchant, lived at the Sudbury home from his birth in 1727 until 1740 and again in 1748, after his father's death.
He left Suffolk aged 13 to train under French painter and illustrator Hubert-Francois Gravelot, before returning to Sudbury in 1746.
When he died in 1788, he was widely considered to be one of the greatest artists of his era.
The home has been a museum for Gainsborough since 1961 and its garden exclusively uses plants popular in his lifetime.
Mark Bills, director of Gainsborough's House, said: "We will be able to reach more people... offering nationally important exhibitions as well as serving the local community."
The new centre will also celebrate Gainsborough's friendship with John Constable and the latter's "inspiration" from the Suffolk landscape.
"The Suffolk landscape has inspired and continues to inspire artists and our project celebrates this heritage and culture and will drive the regeneration of Sudbury," Mr Bills added.