Badger-damaged road in Somersham to be repaired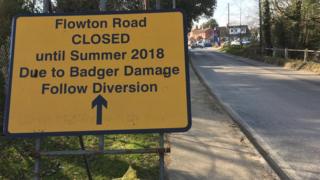 Work to repair a badger-damaged road is set to begin after Natural England gave permission for it to go ahead.
Engineers will install badger gates in Flowton Road in Somersham, Suffolk, after the burrowing mammals caused subsidence.
The road has been closed since 15 March after Suffolk County Council identified a badger sett at the site.
Licences for repairs are only granted during the summer months so badgers are not disturbed during breeding season.
The council said the gates, which are placed in front of the sett opening, will be closely monitored for 21 days to see if there is still badger activity in the area.
If the gates do not move, it will be assumed the sett is no longer in use.
Workmen will then be able to fill it in and resurface the carriageway.
'Risking lives'
A Suffolk Highways spokesman said: "I can confirm the site has been cleared of vegetation to enable the installation of the badger gates.
"Provided the badgers do not return, we can commence works as soon as the 21 days have passed. Should the badgers return within the 21 days, the process will need to begin again."
An emergency road closure was put in place after badgers dug out all the sand underneath the highway.
Residents told how motorists had previously been "risking their lives" when driving along the road by moving warning signs out of the way to continue their journeys.
Sue Wells, who lives in the village, said: "It will be interesting to see how deep the hole actually is once the workmen start digging as there's quite a dip in the road now.
"I'm sure the badger gates will eventually solve the problem but it's going to take time. I just want it to be fixed."