Greater Anglia: Major rail delays caused by trespassers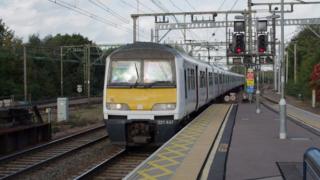 Trespassers have caused nearly three weeks of delays on Greater Anglia trains in the past year, the rail firm has revealed.
Figures show trains were delayed for more than 30,000 minutes in 2017-18 due to trespassers on or near the tracks.
This is an increase of 33% over on the figure for 2015-16.
Trespass incidents can include people playing on the line and just walking near it.
---
Minutes of delays each year due to trespass
2015-16: 22,581
2016-17: 27,766
2017-18: 30,162
---
Jay Thompson, Greater Anglia's train service delivery director, said: "Safety is our priority on the railway. Stepping on to the tracks could result in life-changing injuries or death.
"We encourage people to be vigilant and take care when they are close to the railway. Sometimes people do not realise they are trespassing - they may think they are taking a shortcut home, but in fact they are putting their safety at risk."
Rupert Lown, Network Rail's director of safety for Anglia, said: "It may seem harmless to take a shortcut, or fun to play on the tracks, but this is not only illegal, it is also very dangerous."