Orwell Bridge in Ipswich may allow cars to cross in high winds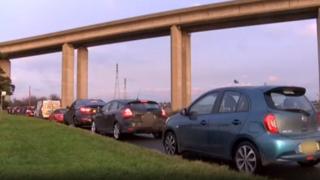 The rate of progress of proposals to see if cars could be allowed to cross a Suffolk bridge during high winds has been criticised.
The A14 Orwell Bridge at Ipswich is closed to all traffic when winds reach 60 mph (100km/h).
There have been calls from business leaders and politicians to allow cars to continue using it, while lorries would still be diverted.
The Highways Agency said assessments were taking place.
More calls for a rethink came following three closures of the bridge in January, and the resultant congestion on roads in and around Ipswich serving freight traffic for Felixstowe.
The latest ideas were revealed to Ipswich Borough councillors who had asked for solutions to the congestion.
'Not viable'
Critics said the idea of allowing cars on the bridge, while continuing to ban high-sided vehicles, had been put forward two years ago and urgently needed trialling.
Sandra Gage, Labour's vice-chairwoman of the council's Overview and Scrutiny Committee, said: "I will be questioning what is holding this up, and asking on Thursday for Highways England to attend the October meeting of the committee to tell us whether they are prepared to trial letting cars through on windy days this winter."
Highways England, which is responsible for the bridge, said a traffic management plan and road signs were being designed, although segregating vehicles on the approaches was "not viable" at present because of the surrounding road layout.
A spokesman said: "We will continue to work closely with everyone to realise further improvements as we realise the importance of the A14 and Orwell Bridge, not just for Ipswich but for all of Britain."