Tavis Spencer-Aitkens stabbing: Meeting pledges 'will be forgotten'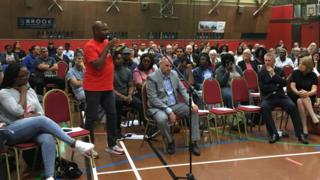 The cousin of a teenager stabbed to death said he feared people "will forget" pledges made at a community meeting in response to the killing.
Tavis Spencer-Aitkens, 17, died in hospital from a single stab wound after being attacked in Packard Avenue on Ipswich's Nacton estate on 3 June.
The meeting followed three stabbings in the town this month.
Tavis's cousin Ossie Thompson said communities needed "to look after our children".
About 150 members of the public attended the meeting at the Lindbergh Centre on Thursday night, which featured a panel including Assistant Chief Constable Rachel Kearton; Tim Passmore, Suffolk's Police and Crime Commissioner; and David Ellesmere, leader of Ipswich Borough Council.
It heard about plans to turn on streetlights in the affected area, extend a free summer holiday sports programmes for children and set aside funding for community projects.
There will also be a £100,000 investment in the Murrayside Community Centre and three youth workers have been brought in to work with the community immediately.
But after the meeting, Mr Thompson said: "We all sit and listen and talk but when one goes home most people will forget about what's been spoken about.
"We as parents - and grown, civil, adults - should look after our children."
Two people have been charged with Tavis's murder and four men, a woman and 17-year-old boy have been arrested in connection with the case and released while inquiries continue.
Earlier this week, Tavis's aunt said he was forced to take part in gang activity.