Hadleigh horse sanctuary faces eviction after land sale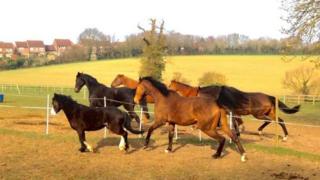 The founder of a Suffolk horse sanctuary is making a "desperate" plea for help as her farm faces eviction after the land was sold.
Jann Turner said she has just a handful of days to find a new home for 16 disabled and elderly horses and donkeys at French's Care Haven in Hadleigh.
The sanctuary has leased the 18 acres (7.2 hectares) of farmland and outbuildings for more than 11 years.
The land is to be developed into a caravan and holiday park.
Read more Suffolk stories here
"Time is running out," said Ms Turner, an equine physiotherapist. "It's a desperate situation."
The BBC has approached the owners for comment on the proposed eviction.
Mr Turner describes the sanctuary in Pond Hall Road as "an old people's home for horses", providing round-the-clock medication, care and shelter to 12 horses and ponies and four donkeys.
Each animal costs about £80 a week to look after.
She has appealed to local farmers for space to keep the animals within a 15-mile radius of Hadleigh, but said she was prepared to move further afield.
"This has been the most stressful four months of my life," said Ms Turner.
The sanctuary also provides work experience to local schoolchildren, runs sessions for community groups and has a band of volunteers who help feed and wash the animals.
It was set up after people started to take sick animals to Ms Turner who already owned a couple of rescue horses.