World Cup winner Sir Alf Ramsey's England job letter fetches £3,400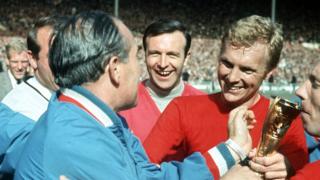 A letter confirming World Cup-winning Sir Alf Ramsey's appointment as England manager has sold for £3,400.
Dated 26 October 1962, the letter, signed by Denis Follows, then secretary of the Football Association, offers an annual salary of £4,500.
Sir Alf, who died in 1999, managed England for 11 years, winning the World Cup in 1966.
A silver salver commemorating his 100th game in charge of England topped the letter, selling for £3,600.
Both were sold for several times their reserve price.
Thirty lots from the estate of Sir Alf's widow Lady Victoria Ramsey, who died in March, went under the hammer at Clarke and Simpson auction house in Framlingham, Suffolk.
The letter details a salary rising annually by £100 increments to a maximum of £5,000, to start from the following May.
The salary would equate to about £95,500 today.
The salver was presented to Sir Alf by the Council of the FA at England's match against Wales in 1972.
There had been an estimate of £600-800 on the letter, with the salver expected to attract between £1,000 and £1,500.
Items from Sir Alf's time as manager at Ipswich Town, who he led to become English champions in the 1961-62 season, were also sold at the auction.
Geoff Barfoot, from the auction house, had said it was "exciting" to be auctioning the items because of Ramsey's "links to the local community".
"A quirk of the letter is that the 'O' in October is out of line, so perhaps the FA's typewriter wasn't very good!"
The auction was held as England's 2018 World Cup players prepare for their opening match against Tunisia in Volgograd, Russia.